No.9 Cafe is a family-friendly cafe located in the heart of Waterford City. Their menu includes something to suit everyone, and there is a children's playroom so that they can be entertained too!
Taste of Thursday
Throughout the year No.9 will be running their "Taste of Thursday". Each Thursday they will pick their lunch special from different countries around the world based on what's in the news.
How you can win
To celebrate No.9's Taste of Thursday, Eamonn will be giving away a lunch voucher for two for No.9. To be in with a chance of winning, just listen to Déise Today where Eamonn will be asking you a question.
Text your answer to 083-3333975 and you could win a delicious lunch for two.
Thursday June 21st 2018 – Kanda, Spicy Meat Balls with Pumpkin Seeds
This week No.9 have chosen the Central African Republic (or CAR) for Taste of Thursday, following German Tennis star Boris Becker's attempt to avoid Bankruptcy by claiming to have diplomatic immunity.
The Central African Republic, a former French Colony is one of the world's poorest countries, with the same population as Ireland but is nine times bigger with over 80 distinct ethnic groups, each with their own language.
They are one of the countries which uses the Central African Franc, which regular listeners might remember is a Common Currency used by many Central and West African countries and is tied to the Euro.
The Countries national Basketball team is a source of great pride, having twice won the African Cup and qualified for the Basketball World Cup. To honour the Central African Republic, No.9 Barronstrand St. are making Kanda which is a spicy meatball dish using Pumpkin Seeds served with rice.
Thursday June 14th 2018 – Nasi Lemak with Beef Rendang
This week No.9 have chosen Singapore for Taste of Thursday, as it was the location for the summit between North Korea and the United States.
Singapore is an independent island republic less than half the size of county Waterford and a population of five and a half million people. It is one of the worlds most advanced and wealthiest countries, based on industry, trade and commerce, with some of the worlds largest; oil refineries, container ports and stock exchanges.
Singapore was founded by Stamford Raffles who worked for the British East India Company in 1819, when he chose the island as a company base. When the company was dissolved the island became a British Colony and in 1965 became independent, after a brief stint as part of Malaysia.
The name Raffles is well known from the Raffles Hotel named in his honour and home to the Singapore Sling.
As one of the main hubs of Asia Singapore's cuisine takes the best of its neighbours particularly Malaysia & Indonesia. Nasi Lemak is a Malaysian Rice Dish cooked in Coconut milk, Beef Rendang is an Indonesian Beef Dish, similar in flavour to a curry but with a richer flavour from the slow cooked beef.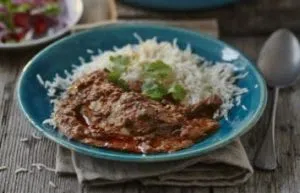 Thursday May 31st 2018 – Turkmenistan
Ich Lekki (ish-lekki)
It's stories like this that make Taste of Thursday so much fun. We have a crazy news story which leads to the discovery of an amazing new dish that you wouldn't find if you watched all the cookery programmes in the world.
Turkmenistan is a former soviet republic, located north of Iran on the Caspian Sea. It has the world's sixth largest natural gas reserves and is considered one of the worlds most repressed countries. The reason it's in the news this week is that its President ordered police to investigate reports of people using toilet paper with his face on it. While the plight of the Turkmen people is nothing to be laughed at; its president is a goldmine of hilarious YouTube videos as he tries to develop a cult of personality and fails.
(ish-lek-i) is Turkmenistan's national dish, it is effectively a skinny pizza pie with a meat filling similar to a Bolognaise, its two of the world's favourite foods in one!
As for the President of Turkmenistan he is also famous for banning and confiscating all black cars because he thought they were bad luck and his best YouTube clip is of a horse race that was fixed so he could win, what could go wrong – he fell off the horse!
Thursday 31st of May – Mali
Warm Spinach Salad with Chicken and Shrimp
On Monday morning on a street crowded with people, Mamoudou Gassama from Mali performed what newspapers have described as the actions of a "Superhero" climbing four stories to save the life of a four year old and in so doing becoming "The Spiderman of the 18th. By lunch time; he had met the French President, been given a medal for bravery, been offered French citizenship and been offered a job with the fire service.
To acknowledge this amazing story No.9 have chosen Mali for Taste of Thursday, serving a Warm Spinach & Chicken Salad.
Mali is a very poor country. It has a population of 18 Million people with 80% of the population working in seasonal agriculture, the countries average wage is €28 per week. Millions of people have no access to fresh water, sanitation, electricity or education. On the bright side Mali's economy is growing exponentially, doubling in size every 5 to 10 years and public services are slowly expanding.
While researching Mali we discovered something fascinating; Mali is one of eight countries in west Africa with their own common currency called the CFA Franc, this currency is not just like the Euro it is in effect "The" Euro just with different coins and notes; the currency is guaranteed by the French Central Bank and has a fixed rate against the Euro at 655 CFA Francs to the Euro.
Thursday, May 24th – Congo
Mwambe Peanut Chicken with Congo Rice
Mwambe is the national dish of the Congo, it is a chicken dish with a spiced peanut sauce and Congo Rice is a fragrant rice dish cooked with Spinach and Okra.
The Democratic Republic of the Congo or the DRC, is currently in the news because they are trialling a new vaccine for Ebola.
The DRC was formerly a Belgian colony and is not to be confused with its neighbour on the other side of the Congo River, the republic of Congo which was a French colony. The name Congo means; the river that swallows all rivers. It is the second longest river in Africa after the Nile, but is also carries the second largest volume of water after the Amazon.
The DRC is Africa's largest country almost, at almost half the size of the USA and is situated on the Equator.
Above the equator the rainy season lasts from October to May and below the equator it lasts from April to November, but in the region along the equator which is an area many times larger than Ireland, it rains all year round. As a humid tropical country with a year round rain season its annual rain fall is 42 inches but that's still only half the rain we had in Ireland last year!
Thursday 17th of May
Lemon & Saffron Chicken Skewers with Persian Couscous
Iran is one of the countries most heavily featured in the news over the last year and that is likely to continue for some time, due to differences with its neighbours and by extension the United States. Iran is a very large country, the 17th largest in the world, making it bigger than; France, Germany, Spain and Portugal combined. It has a population of 81 million people, which is the same as Germany and it has an economy the size of Canada.
Iran is not an Arab country but is actually majority Persian, with a different culture and language to its Arab neighbours. Iran is also unique in the Muslim world being mostly Shia Muslim, with most of its neighbours being Suni Muslim.
Persian Cuisine is well known for its use of herbs and its delicious flavours whose influence has spread across the world. Some of the founders of; Tinder, Dropbox and ebay are of Iranian extraction.
Thursday 10th of May
Swedish Meatballs with Mustard Mash
There was a recent news story about how Swedish Meatball's actually came from Turkey when Swedish King Charles the 12th brought the recipe back from Moldova which was, at the time, part of the Ottoman Empire.
But the most fascinating part of this story is not the meatballs but the King. At the age of 15 Charles the 12th assumed the throne three years after his widowed father Charles the 11th died.
Three years later at the age of only 18 he faced an invasion from an alliance of; Denmark, Norway, Saxony, Poland, Lithuania and Russia which started the Great Northern War which lasted 21 years.
With a much smaller but well trained army Charles managed to meet the invasion and by the age of 24 he had defeated all but Russia and to finish them off decided to march on Moscow, but was injured and in a decisive battle was unable to lead his army and they were defeated.
He was exiled to Moldova for several years before returning to Sweden, not only with a recipe for Meatballs but also introduced Sweden to Coffee. He died in 1718 at the age of 36 fighting to liberate Sweden.
Thursday 3rd of May
Bobotie  (ba-boor-tea)
This week No.9 have chosen South Africa, where two of South Africa's most prominent people have both chosen to step down, one from politics and the other from sport. President Jacob Zuma was recently forced to step down as a corruption scandal escalated. Meanwhile South African Rugby player and former World Rugby Player of the Year Brian Habana has coincidently decided to retire from Rugby.
These two men's legacies couldn't be more different, Zuma has always been a controversial and divisive figure, while Habana has been an inspirational role model on a global scale.
Bobotie is South Africa's national dish, which is similar to Cottage Pie, but with a slightly curried flavour and with a creamy golden topping a bit like Moussaka. No.9 will be serving it with yellow rice.
Thursday, 25th of April
Swiss Rosti with a Korean Twist
Tomorrow North and South Korea will hold a joint dinner to honour the first meeting between North Korean leader Kim Jong Un and South Koreas president Moon Jae In.
One of the dishes to be served is described as a "Swiss Rosti with a Korean Twist", which is a reminder that Kim Jong Un actually went to school in Switzerland.
No.9 Barronstrand st have this week chosen to do their own Swiss Rosti with a Korean twist, creating a Potato Rosti with fresh coriander, ginger and soy and serving it with Korean Style Sweet and Crispy Chicken and a Sticky Dipping Sauce.
Kim Jong Un's Swiss connection again reminds us how small, yet complicated the world can be but that sitting down and talking over dinner can help to make things better.
Thursday, 19th of April
Chicken Rendang with Nasi Lemak
This week No.9 has chosen Malaysia due to the recent news story of a man from Syria who has been stranded in Kuala Lumpur Airport for over a month! As with everything in life the details are complicated, with no obvious solution in sight. He is not permitted to enter Malaysia nor is he permitted to leave, and so there he sits, in the flight connection centre posting videos on YouTube.
Malaysia is located between Thailand and Indonesia and shares some similar customs and style of cuisine with its neighbours. With varying degrees of success it aims to be a modern progressive Muslim country and is one of the few developing countries to have an extensive publicly funded health and education system.
Rendang is a coconut milk stew and was a dish introduced to Malaysia from Indonesia where beef was usually used, but has become a Malaysian favourite. Lasi Lemak it a fragrant rice dish which also uses coconut milk to cook the rice and is considered Malaysia's national dish.
Thursday, 29th of March
Matzo Stuffed Chicken with Gremolata Roast Vegetables
This week No.9 has chosen to celebrate Passover, the Jewish Biblical Holiday. The Book of Exodus tell of how God helped the Children of Israel escape Egypt with the help of Moses.
It is said that when the Pharaoh finally freed the Israelites they left so quickly the bread they took  didn't have time to rise, so they eat unleavened bread (Matzo) to mark the holiday. In Judaism the days begin and ends at sun down. So Passover begins on Thursday evening, it was this feast that was the scene of the Last Supper. In Suni Islam the Parting of the Red Sea by Moses during the Israelites escape from Egypt is also marked at the same time by fasting for two days. Three religious holidays at this time of year demonstrates that while all three religions mark the same occasion for different reasons and in different ways they are all the children of Abraham with
Thursday, March 22nd – Myanmar
Burmese grilled chicken with Forbidden Rice.
This week No.9 has chosen Myanmar as it has unfortunately been heavily featured in news stories due to the treatment of the Rohingya population.
Myanmar used to be knows as Burma up until the end of British rule in 1948, since then it has been home to one of the world's longest running conflicts which has its roots in the Second World War, the factions created during the second world war have continued for 70 years. Effectively for the people of Myanmar the Second World War never ended!
To celebrate the people of Myanmar and to remember the Rohingya people No.9 will be serving Burmese Grilled Chicken with Forbidden Rice. This is a dish based around the city of Mandalay which is an inland city about the size of Dublin in the
centre of the country, where chicken dishes are popular.
Forbidden rice which turns purple when cooked was once so prized as to be known as Forbidden rice in ancient china. It has a delicious nutty flavour and is known for its health benefits.
Thursday, March 15th – Suriname
Masala spiced chicken with rice and beans.
This week No.9 has chosen Suriname because it's a country that never gets in to the news but has an unbelievable history.
Firstly it sounds like it's probably a country in Asia, but it's actually in South America between Brazil and Venezuela.
Then you discover that even though it is in South America its largest ethnic group is actually Indian and south Asian, and accordingly its cuisine is an unusual combination of popular South American ingredients but cooked with Indian spices.
The Indian population grew when slavery ended and the Dutch colonists hired Indian labourers. When the country became Independent in 1975 a lot of the Indian population moved to Amsterdam, hence the reason there are so many Surinamese take-away's in the Netherlands.
Even though it doesn't get into the news very often Suriname shows us that the world is a very small
place.
Thursday, March 8th – South Korea
Sweet Crispy Chicken with Korean Vegetable Rice and Crispy Fried Egg.
Today they have chosen South Korea where they just wrapped up a successful Winter Olympics which has opened the door to a relaxing of hostilities with the north and averted world war three for a while.
Just to give you an idea of what's to come, here are some dishes they've included in the past that are sure to make your mouth water:
Japan: Tempura of haddock with kare raisu Japanese rice curry
Malaysia: Chicken Laksa a delicious Malaysian noodle soup with amazing flavours
Egypt: Dukkah-crusted chicken and roast chickpea salad
Nigeria: Suya Chicken kebab, tasty jollof rice with everyday salad & tzatziki dipping sauce