Update 2.03pm: Taoiseach Leo Varadkar has said the Government will facilitate Ibrahim's return at the earliest opportunity.
@declanwalsh

: Ibrahim Halawa, moments after his acquittal. He jumped with joy, hugged fellow prisoners and had tears in his eyes.
"I have just received news from our Embassy in Cairo that the Egyptian courts have delivered an acquittal in the case of Irish citizen Ibrahim Halawa, and that Ibrahim's sisters Somaia, Fatima and Omaima have similarly been acquitted," he said.
"I wholeheartedly welcome this conclusion to what has been an extraordinarily protracted case.
"Now that Ibrahim has been cleared of all charges, I expect he will be released as soon as possible and can return home to his family. The Government will facilitate his return home at the earliest opportunity.
"I want to acknowledge the consular and diplomatic work undertaken on Ibrahim's behalf by the Department of Foreign Affairs and Trade and the Irish Embassy in Cairo throughout this lengthy process. Following today's verdict, they will continue to assist Ibrahim and his family to ensure he gets home as soon as possible."
Statement by President Michael D. Higgins welcoming the acquittal of Ibrahim Halawa: https://t.co/8Gd5qfTfZu

— President of Ireland (@PresidentIRL) September 18, 2017
 Earlier:Irishman Ibrahim Halawa has been acquitted on all charges according to reports from Cairo.
The 21-year-old from Firhouse in Dublin has been in an Egyptian jail for four years.
Dublin South West TD and Independent Minister Katherine Zappone has said he will return home to Ireland.
@rtenews: 

An overwhelmed Nosayba Halawa, sister of Ibrahim Halawa, speaks to News at 1 after her brother Ibrahim was acquitted of all charges.
Minister Zappone, who is Ibrahim's local TD, has also confirmed that she has asked Government colleagues to ensure that every support is put in place to help Ibrahim re-start his life following his ordeal.
Speaking following the acquittal Minister Zappone said: "My thoughts, prayers and solidarity are with Ibrahim and his family, his dedicated legal team and everyone who I worked and campaigned with to bring us to this moment.
"It is important that all who campaigned over the past four-years continue to co-operate to ensure Ibrahim's return is arranged as soon as possible.
"I remain in close contact with Ibrahim's sister Somaia, his lawyers and Government colleagues to ensure that Ibrahim's needs are immediately assessed and any supports required put in place.
"Assessing his health, psychological and social needs must be the priority and supports offered.
"The Halawa family, in particular sisters Somaia and Fatima, are among the most inspiring people I have campaigned side by side with. At vigils, demonstrations and meetings within Government Buildings, their patience, persistence and resilience has been an inspiration, as is their love for their brother.
"Lawyers Katie O'Byrne, Caoilfhionn Gallagher of Doughty Street Chambers as well as Darragh Mackin of KRW Law provided invaluable support and information throughout the ordeal and their persistence has also been crucial in keeping the campaign in the public eye.
"It is important also to acknowledge the dedication and work of the Department of Foreign Affairs on what has been one of the most difficult consular cases in years.
"As an Independent Minister and Dublin South West TD I am committed to see this case through to its conclusion, Ibrahim's homecoming. I will work with the family, lawyers and politicians from all sides including those who travelled to Cairo as part of the Oireachtas delegation."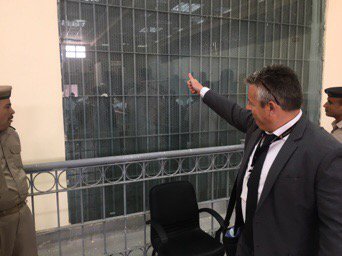 @declanwalsh

: Irish consul Shane Gleeson gestures to Ibrahim Halawa, Irishman imprisoned in Egypt for 4 years, after his acquittal.