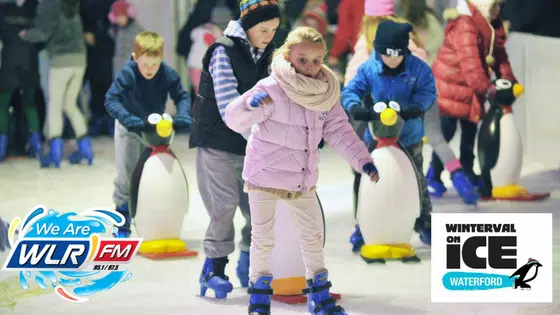 Winterval on Ice has a new home at Waterside Car Park and it's guaranteed to be the best experience yet.  The icy extravaganza will  partner with the Winterval Festival in the lead up to Christmas and we will also remain open until mid-January.
With a large main rink, a separate kiddies rink and a variety of events throughout the season, there is something for everyone, making this quintessential Christmas experience a breeze. The rink will play host to a variety of  themed nights and special offers throughout the season, so there  is something for everyone. Proving there really is nothing quite like Christmas in the "snowy south east".
From the 11th – 15th of December, we're giving you a chance to win a Family Pass to Winterval On Ice each day on The Big Breakfast Blaa!
Here's how to win:
Each day, we will give you THREE words, which are all linked by one common fourth word.
For example, if we say: 'rocking, wheel and high' – what one word can be used to link all 3?! Chair!                                        Rocking chair, Wheelchair, High chair!
For our Winterval on Ice competition, that fourth word will always have something to do with Christmas and Winter; which narrows it down a bit! And we'll give you a clue if it's a hard one!
What is Winterval On Ice?
Winterval On Ice will be one of the main attractions of Winterval this year.
It is an Ice Skating Rink (with a separate kiddies rink), and this year it is bigger and better than ever before!
Who can go?
Children of 3 years of age and up can enjoy Winterval On Ice.
The smallest skate is a double bladed size 27 and there is an adjustable skate that can be worn over shoes and adjusted to small sizes.
How much does it cost?
Prices vary depending on the time but you can check times and prices on www.iceskating.ie.
If I book tickets online do I need to print them?
It would be beneficial to print your tickets if you book online as it enables you to skip the queue at the Box Office and head straight to the skate desk with your tickets.
However, if you cannot print your tickets they can be  printed for you at the Box Office once you have the email address they were booked with and the order number.
How long are the sessions?  
Sessions are 50 minutes long and there is a 20 minute break between each session to allow for the ice to be cleared and resurfaced.
You can join a session at any point during the 50 minutes but if you join late you cannot stay on the ice longer than the session time.
For more information and to book your tickets, you can visit www.iceskating.ie
Where to find Winterval On Ice