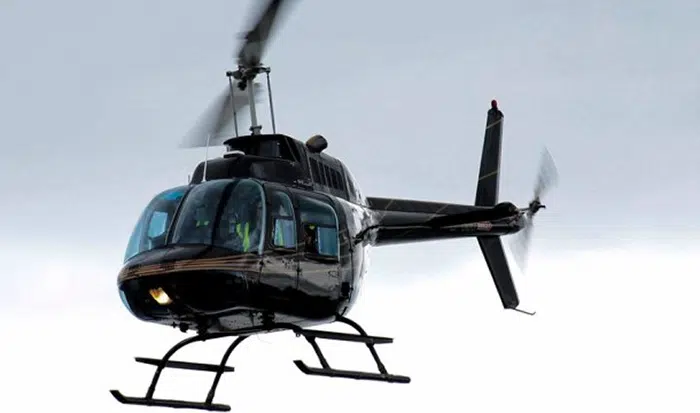 Choosing a Christmas present for someone special can be a difficult task; whether it's a family member, a neighbour or that good friend who has everything but still deserves a special treat.
The WLR Christmas Appeal VIP Auction might just have exactly what you need. We've curated a collection of items that will each make an ideal Christmas gift for someone special (perhaps you deserve the treat!).
Each item will go on sale on-air on WLR on Thursday. Listen in from 7am as The Big Breakfast Blaa, Déise Today, The Lunchbox and The Drive Home will each open bidding on a selection of items: many of which are one-of-a-kind, luxury or money-can't-buy items.
How about a private helicopter flight over Waterford's stunning Viking Triangle and Copper Coast? Or a proposal on the Waterford Eye followed by a celebratory dinner in Bodega? Or what about a 'Positive Life Transformation Package' including personal training, nutritional advice and a personal stylist?
Browse the list below and when you hear the sale opening for the item you want, give us a call and place your bid. All items have been kindly sponsored or donated, so every single cent from your winning bid will go directly to the Saint Vincent de Paul in Waterford as part of the WLR Christmas Appeal.
You can also text your bid to 083-3333975. Include the letters VIP at the start of your text, followed by the item you want to bid on, your bid amount and your name.
Item: Annual pass for Odeon Cinema Waterford
More details: Annual pass consisting of 50 cinema tickets for Odeon Cinema Waterford.
Sit in comfort and relax to watch this year's box office hits! Odeon offers state-of-the-art cinema for blockbusters in 2-D or 3-D format. Nothing beats sitting in comfort in front of a great film on the big screen!
Value: €500
Reserve: €350
Item: Romantic experience on The Waterford Eye including private VIP carriage, bottle of Champagne & dinner for two in Bodega Restaurant to the value of €100
More details: Perfect for any special occassion: a birthday, anniversary or perhaps even a proposal! Enjoy the privacy of the luxury VIP carriage on the Waterford Eye and continue the romance and celebrations in Bodega restaurant in The Apple Market.
Value: €150
Reserve: €120
Item: Heat your home with a 300 litre oil fill from Top Oil Waterford
More details: Top oil 300 litre Kersosene voucher from Top Oil Waterford valued at approximately €220
Reserve: €180
Item: 5 star break at Castlemartyr Resort for one night in the luxury 18th century classic manor house including a 5 course dinner for two and sumptuous breakfast the following morning.
More details: Castlemartyr Resort is one of Ireland's finest 5 star hotels. Located in County Cork, the luxury Castlemartyr Resort consists of a grand 17th century country manor house that sits adjacent to the ruins of an 800-year-old-castle.
The 5 star hotel includes a 10 treatment room Spa, a fitness studio, and a Ron Kirby designed golf course.
The hotel offers 103 guest rooms, suites and self catering accommodation.
The spacious rooms feature free Wi-Fi, an en suite bathroom, luxurious furniture, flat-screen TV, and stunning views of the luxury 5 star hotel & grounds.
The hotel offers four dining options: the Bell Tower Restaurant serving modern Irish cuisine with a twist, our Italian casual dining restaurant, Franchini's, the relaxed yet elegant Knights Bar, and our informal Clubhouse offering a lighter dining option.
Value: €330
Reserve: €260
Item: 12 Month membership with Kingfisher Club Waterford with comprehensive fitness solutions in a fun, fast paced environment
More details: 1 year adult membership at Kingfisher Club on the Tramore Road, Waterford. Kingfisher Gym offers its members full size AstroTurf facilities, tennis courts, sports hall and a children's party zone. After all this activity, you can unwind with friends in their café. If you love swimming or feel like relaxing, why not try their 25m pool for size. They offer swimming lessons for the young and old as well aqua aerobics and dedicated lanes for those feeling energetic. (T&C: must sign up by 31/1/2018)
Value: €460
Reserve: €350
Item: Private helicopter flight over Waterford City & County with Adventure 001
More details: There is nothing quite like the sensation of hovering in a powerful, fast-moving helicopter, looking down at the ground just a few feet below. But there is no time to ponder, as your pilot has applied power and you can feel the helicopter accelerating over ground, taking off from Waterford Airport and climbing to 1000 feet. Whilst you admire the breath-taking countryside, your private pilot will point out local landmarks including Tramore Bay, the Metalman, The Waterford Viking Triangle, Waterford Castle and Faithlegg Estate to name just a few. After a 45km round trip, your helicopter gently returns to Waterford Airport. Don't forget to take your camera, so you can you can re-live the experience with friends and family and show off your fantastic photographs.
Flights typically take place at least one Saturday or Sunday per month from April to October. 2018 dates TBC.
Value: €360
Reserve: €300
Item: Winterval Golden Ticket
More details: Each Christmas, Winterval transforms Waterford into Ireland's Christmas Capital, with festive activities, attractions and events set in beautiful heritage sites across our Viking city. The coveted Golden Ticket allows a family of four complimentary access to:
Winterval on Ice
Express Train
Vintage Ferris Wheel
Golden Gallopers Carousel
Swing Boats
Santa's Kingdom
Horse Drawn Sleigh
Helter Skelter
Mini Carousel
Waterford Eye
Value: While Golden Tickets can't be bought, the accumulated cost of entry to each attraction and event is approximately €200
Reserve: €150
Item: 2 x 12 month membership in the world class Goldstone Gym & Fitness in the Six Cross Roads Business Park.
More details: 2 x memberships memberships for Goldstone Fitness
Goldstone Gym & Fitness offers world class equipment and facilities in over 30,000 sq ft of floor space, all designed with our members in mind. Our bright, modern and very spacious gym offers everything you need, whether you're a first time exerciser or regular fitness fanatic! If you're looking to get stronger, fitter or faster, look no further than Goldstone.
It opens from 6 am Monday– Friday until 10pm Monday-Thursday (slightly different times on the weekend) so now there are NO excuses! Perhaps your goal is to run a marathon, grow muscle and gain definition, or maybe you just want to work off those weekend sweet treats, Goldstone is here to help you! Availa of this membership and enjoy the recently expanded gym (the club's third expansion since it opened six years ago!)
Value: €250 each
Reserve: €200 per membership
Item: 2 seated tickets (on pitch) to Michael Bublé's exclusive Irish show in Coke Park on 7th July, 2018
More details: Multiple Grammy and Juno award winner Michael will play a fully seated concert at Croke Park on Saturday, 7th July 2018.
This will be the undisputed 'King of Cool's only Irish show in 2018.
Michael has toured the globe 5 times and has sold out Aviva Stadium in 2010 followed by four successive nights at The O2 Dublin in 2013.
Michael Bublé's classic voice, endearing charm and sheer panache have seen him compared with the great singers and entertainers.  He has carved a unique place in the hearts of fans around the world and lit up pop charts since his debut album in 2005, bringing jazz standards to a new generation while scoring his own original hits including the unforgettable global smashes 'Home', 'Haven't Met You Yet', 'Everything' and 'Lost
Value: €232.00
Reserve: €200
Item: 2 night midweek break with breakfast at Faithlegg House Hotel & Golf Resort in their newly refurbished classic rooms
More details: The voucher is for a midweek stay in Faithlegg House Hotel and Golf Resort in one of the newly refurbished classic rooms. You will enjoy complimentary use of the Estuary Club Leisure Centre which has a 17m swimming pool, steam room and Jacuzzi. Complimentary golf clinics each morning with our resident golf pro Derry Kiely or take advantage of the surrounding countryside and enjoy one of our onsite mapped walks.
You'll also enjoy a delicious buffet breakfast each morning in the Roseville Room Restaurant.
(T&C: voucher excludes July, August & bank holidays)
Value: €240
Reserve: €180
Item: Painting by Waterford born Irish expressionist painter Michael Mulcahy. Available to view at 44 The Quay, Waterford
More details: This stunning artwork has been exquisitely paintes by the acclaimed expressionist artist Michael Mulcahy. Michael Mulcahy was born in Waterford in 1952. He is an Irish expressionist painter who currently lives and works in Paris, but returns frequently to Ireland. His work is often inspired by his extensive travels, particularly to north and west Africa where he has previously lived and worked. The Douglas Hyde Gallery in Dublin held a major exhibition of his work in 1994. The striking painting available to view at 44 The Quay, Waterford.
Dimensions: 101cmX76cm
Value: €2,500
Reserve: €1,000
Item: Waterford hurling jersey signed by Waterford's top hurlers from the past 25 years
More details: This jersey is signed by all the hurling greats of the last 25 years from Waterford hurling team including current stalwarts Kevin Moran, Michael 'Brick' Walsh, Maurice Shanahan and many more.
Reserve: €200
Item: VIP tickets to the sold out Dua Lipa concert in the Olympia Theatre on April 9th, 2018
More details: Rosie's Bake House Dungarvan has kindly sponsored this VIP package, perfect for any live music fan!
2 standing area tickets for Dua Lipa's SOLD OUT gig at the Olympia Theatre, Dublin on Monday 9th April 2018.
This VIP package includes:
Standing ticket to see Dua Lipa live with early entry into the venue, before standard standing ticketholders
Souvenir Dua Lipa Tour laminate and lanyard
Limited edition tour gift, exclusive to VIP packages purchasers
Dua Lipa's latest single 'New Rules', continues to dominate the Irish Singles Charts, spending a fifth week at the Number 1 spot and is now certified double-platinum. Her self-titled album has remained in the Top 10 of the album charts for the last 6 weeks.
On the motivation behind the track, Dua described it as "the breakup song I wish I had when I was breaking up with someone. I think it's something everyone can relate to."
The mega-viral video for 'New Rules', directed by Henry Scholfield, has amassed over 260 million views since going live just two months ago. The video explores the bond between friends and their unity when one is going through a breakup. Having previously worked with Scholfield on the 'Lost In Your Light' video, Dua said "I've worked with Henry before and he does really cool work with choreography. He just has such brilliant ideas."
'New Rules' dubbed "a perfect slice of summer pop" by The Guardian, the single is Dua's fifth to be taken from acclaimed debut album. The news comes after a whirlwind summer that saw Dua play Longitude Festival to a sold-out crowd in Marlay Park and she is currently on tour in the US with Bruno Mars.
Value: €160
Reserve: €120

*image above is a copy and does not include signature.
Item: Framed and signed caricature style poster of Ireland captain Seamus Coleman.
More details: This is a once-off caricature style artwork signed by Republic of Ireland Captain, Seamus Coleman. Kindly arranged and donated by the FAI directly to the WLR Christmas Appeal.
Dimensions: (excluding frame) 210mmX297mm approx
Item: Positive Life Transformation Package with personal training from Mags Murphy, nutritional advice from Jemma Keogh and a personal styling session with stylist, Lisa Kavanagh.
More details: ARE YOU READY FOR A TRANSFORMATION? We all need a little help to get on the right track with our health and fitness at times. If you're ready to commit to getting fit but you're struggling with where to start, then Mags Murphy's Transformation Program could be for you. Mags is offering one personal training session on her January '5 week program'. The program includes a fitness class every Saturday morning, a weekly exercise plan, and all the motivation and support you need to kick start the new year.
In addition, you can avail of 2 x 1 hour sessions with highly acclaimed nutritionist Jemma Keogh.
To complete the package, to kick start 2018 with a new look, stylist Lisa Kavanagh will share her expertise with you through a personal styling consultation.
Reserve: €250
A little video of how our ToyBoxes actually work…

Posted by Wood Bee Designs on Tuesday, September 12, 2017
Item: Handmade & personalised toy box from Wood Bee Designs with child's name and theme of choice
More details: Bid on this beautiful, bespoke, handmade toy box from Wood Bee Designs.
Wood Bee Designs are 'The Brownes'; a family based in the scenic Gaeltacht of An Rinn, Co.Waterford, producing handmade kids furniture.
Value: €270
Reserve: €180
Item: 12 month domestic bin collection from Greenstar
More details: 12 months of domestic collection from Greenstar offering the best range of waste management solutions to meet your needs. valued at €299
Value: €299
Reserve: €220
Item: Waterford Castle Hotel & Golf Resort – a midweek stay for two with three course evening meal and full Irish breakfast
More details: Overnight midweek (Sunday to Thursday) stay for 2 people, including 3 course evening meal at Waterford Castle Hotel and Golf Resort with full Irish breakfast.
Ireland's only Island Castle, set on 310 acre private island. One of Island's most acclaimed hotels offering the very best of Irish hospitality surrounded by the gracious living of an elegant past with every modern comfort, service and convenience. Experience a wonderful sense of anticipation as you make your way on the short crossing over the King's Channel by the private car ferry. Let calmness and wonder envelop you as you travel the beech-lined drive to the Castle's welcoming massive studded oak doors. The Award winning Munster Room Restaurant with its original oak panelled walls, ornate ceilings, dramatic portraits and painted scenes creates an atmospheric backdrop to a pleasurable dining experience, perfectly complemented by a comprehensive wine cellar. The Muster room is critically acclaimed in the Michelin Guide and holder of two AA Rosettes under the direction of the Resort's Head Chef who was awarded "Best Chef of Ireland 2017" – A Truly memorable fine dining experience!
Value: €400 approx
Reserve: €350

*not actual hamper (but your one looks just as good with a different selection of delicious products!)
Item: A selection of food and drink from Waterford's finest producers curated by Ardkeen Qualify Foodstore.
More details: The perfect treat for Christmas; an ideal welcome home gift for family or friends coming home from abroad; or a great way to sample local delights in one go! Enjoy this fabulous hamper of local and artisan food and drink produce including Blackwater Gin, Metalman Beer and a selection of locally produced food items including a voucher for your Christmas turkey!
Reserve: €130
Item: VIP Family Pass to Waterford Panto's 'Snow White and the Seven Dwarfs' in the Theatre Royal followed by dinner for four in The Munster Bar
More details: A perfect post-Christmas family day out. These tickets are for Snow White and the Seven Dwarfs at the Theatre Royal on Saturday, 30th December at 2.30pm seated together in Row H in the stalls. Starring Panto favourites Tony Corcoran, Brenda Giles, Paula Weldon, Leon Sheehan, Terry 'Scol' Grant and Brian Tuohy as well as a host of dancers, singers, junior chorus and some special guest stars – you'll never know who will pop up in this year's Panto. Waterford's own national Panto star Richie Hayes will again put his unique twist on this year's production. After the Panto you and 3 others can enjoy dinner at the Munster Bar.
Value: €125
Reserve: €100
Item: Shopping Spree in Lidl to the Value of €250
More details: Bid on one (or both!) of 2 €250 shopping vouchers for Lidl. Why not get all your festive shopping done under one roof at Lidl and help people in need at the same time!
Reserve: €200 each
Item: Family day out on the Waterford Greenway with bike hire for a family of 4 from 'Greenway Waterford Bike Hire' and lunch in Coach House Coffee in Kilmacthomas.
More details: Stretches 46km through some of the most scenic areas of the county, from Waterford City to Dungarvan, The Waterford Greenway is the perfect place to spend a day with the family.
Value: €90
Reserve: €70
Item: Hot Air Balloon Flight with Joe Daly in his Discover Waterford Suir Engineering Balloon
More details: The Discover Waterford Suir Engineering hot air balloon appears at festivals across Ireland, The UK and Continental Europe. Enjoy this wonderful experience sailing across the landscape of our beautiful county. All you'll need is nice weather to take advantage of this great gift!
Value: €300
Reserve: €240
Item: Family day out on the Waterford Greenway with bikes for 4 from 'Greenway Waterford Bike Hire' and lunch for 4 in Coach House Coffee in Kilmacthomas.
More details: The 46km Waterford Greenway stretches from Waterford city to Dungarvan meandering through some of the county's most stunning countryside.
Value: €100
Reserve: €80