Located on the Tramore Road, Kingfisher is a state of the art facility that offers everything a fitness enthusiast could want (and much more!). It is the perfect place for people who want to start a fitness regime for the first time or for those who want to restore their zest for life.
Kingfisher want to get your 2018 off to the best start possible, and have given us a 12 month membership to give away to one lucky person. To be in with a chance of winning, all you have to do is fill in your details in the contact form at the end of this page!
1. There's over 120 weekly free classes to choose from
Kingfisher offer a wide variety of classes that range from Step & Tone to Body Sculpting. Classes are free for members and non-members can attend on a pay-as-you-go basis. You can view their weekly schedule here.
2. They offer the new Les Mills Virtual Class
LES MILLS Virtual workouts combine world-leading fitness programs with pumping sound and motivation from some of the best instructors on the planet.
3. The 25 metre 6 lane swimming pool is perfect for the whole family
Whether you're recovering after a gym workout, taking part in an aqua-aerobics class, training for a triathlon, or simply relaxing after a hard day, the Kingfisher Fitness Clubs swimming pool offers the perfect environment for an all-over body workout, making it a great addition to any gym programme. It's also a fun activity for the whole family!
4. Kingfisher's Staff are second to none
Kingfisher's gym is staffed by qualified gym instructors who are always available to discuss members' programmes or for any query that you may have. The pool environment is also constantly manned by one of our trained lifeguards to ensure a fully safe pool environment for all members and guests. You can find out more about the Kingfisher team here.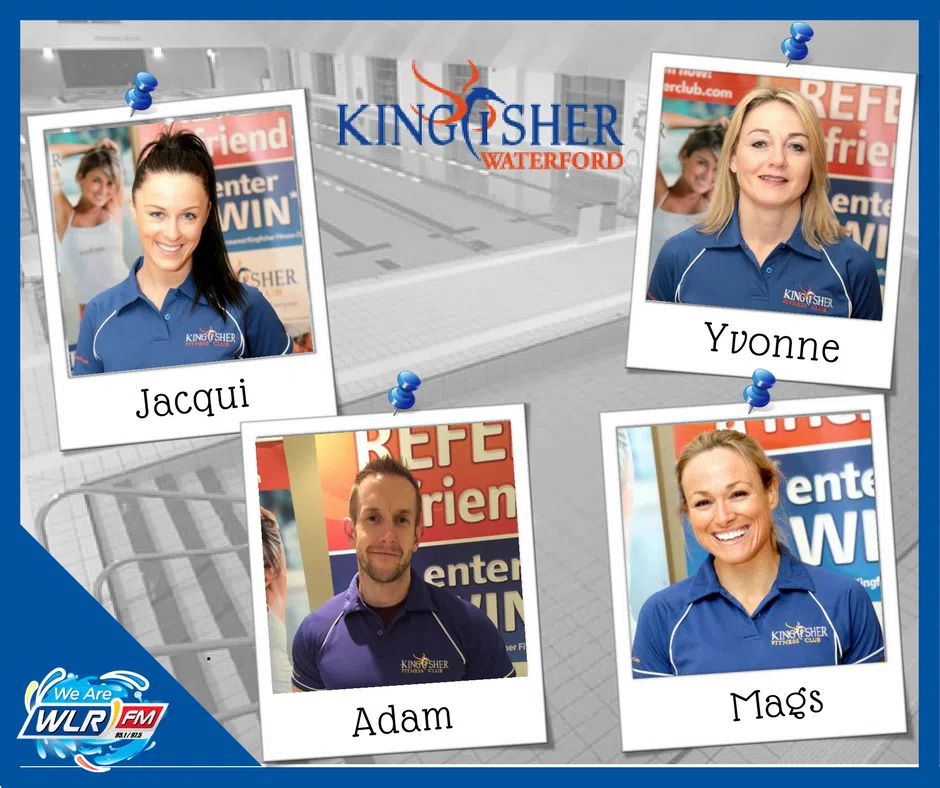 5. Great opening hours
Their long opening hours mean you should always be able to find a time that suits you! Their opening hours are:
Monday to Friday – 6am to 10pm
Saturday and Sunday – 9am to 6pm
Bank Holidays – 9am to 6pm
6. Book a class in seconds with the new Kingfisher app
The new Kingfisher app allows you to book classes on the go, so you'll never have to miss a workout again. You can also get push notifications that will alert you of the latest offers and events. The app is available for download on both the App Store and on Google Play for Androids.
7. You can indulge in a spa treatment
Kingfisher have an onsite spa that offers a wide range of treatments ranging from manicures and pedicures to waxing or a rejuvenating body mud wrap! Treat yourself to 'Me Time' at the Kingfisher Spa, an oasis of relaxation and tranquility or get ready for that special occasion.
8. Students can avail of fantastic deals
No matter what your fitness goals are The Kingfisher Club Waterford is the perfect place to improve your physical and mental health. College can be stressful, but research has shown that exercising releases happy chemicals in the brain which makes us feel happier. It improves sleep quality, energy levels and memory, all which have a positive effect on your studies and your overall well-being. Find out more about their student membership here.
9. You won't have to worry about parking
Its location on the outskirts of Waterford city means that you can avoid much of the morning rush hour. There's also ample parking, so struggling to find a space is one less thing to worry about!
10. Take the stress out of your child's birthday party
Kingfisher's facilities are available to hire at unbelievably low prices for the perfect party. Kingfisher supply two party entertainers to supervise and entertain your kids with face painting and childrens' games.
11. Combine a gym-workout with some outdoor cardio (with a view)
Waterford Nature Park is about 150 acres and is an oasis within the city environment. It has a 2km walkway as well as a series of walkways which traverse the park. If the sun is shining, why not take your cardio outside and enjoy all that this beautiful nature walk has to offer?
12. Kids go free!
Join their Gold Standard award winning Club and 2 of your children will receive membership free of charge!
Would you like to win a 12 month membership for Kingfisher Club?
To be in with a chance of winning, all you need to do is fill out the form below with your details. Everyone who enters will also get one free gym pass, so you can check out Kingfisher's state of the art gym yourself!