People are being warned not to swim near the Cove in Tramore.
It's following a malfunction at the pumping station at The Cove. Irish Water and Waterford Council say they repaired the fault this morning.
They have issued a 'No Swim' notice for the area which will remain in place for the next 12 hours. They say that no other bathing areas in and around Tramore area are affected.
They've apologised for any inconvenience this has caused to the public and say that sampling and clean up will continue over the next 24 hours.
In partnership with @IrishWater, we earlier repaired a pumping fault at The Cove, Tramore. Precautionary "No Swim" notices, specific to the Cove area remain in place for a further 12 hours. No other bathing areas in and around the Tramore area are affected. #waterford pic.twitter.com/J0QNp9BIJI

— Waterford Council (@WaterfordCounci) June 28, 2018
Local Paul Ferris described what he saw: "Raw sewage being pumped out onto the beach at low tide. Kids were swimming in the area. Two swimmers [who had swam] from the Pier to the Strand and back came up the slip and started vomitting." He added that "kayakers have been going out there and reporting brown slime on the top of the water and papers and that floating."
He says the pier is a popular area: "On average there would be maybe 30 kids down there, plus the adults, plus the people who own the boats."
Paul Ferris says the sign that was errected was so small that they've had to have someone standing there "and notify people who are coming down to sunbathe and play in the water – don't go swimming".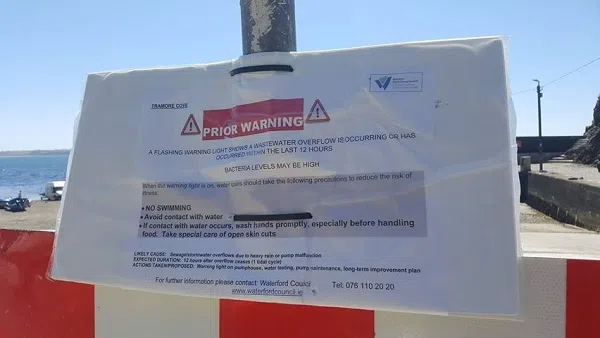 Paul added that he "has a boat down there and I won't even pull it out for the next two or three days because it will all be on my ropes and we've got nowhere to wash our hands, so no I won't be doing anything down there only sitting and looking."