Multiple Grammy and Juno Award winner Michael Bublé plays a fully seated concert at Croke Park this Saturday 07 July. Emeli Sandé will join him as special guest. Ahead of the gig, promoters have released some important information for those heading to the concert in Croke Park.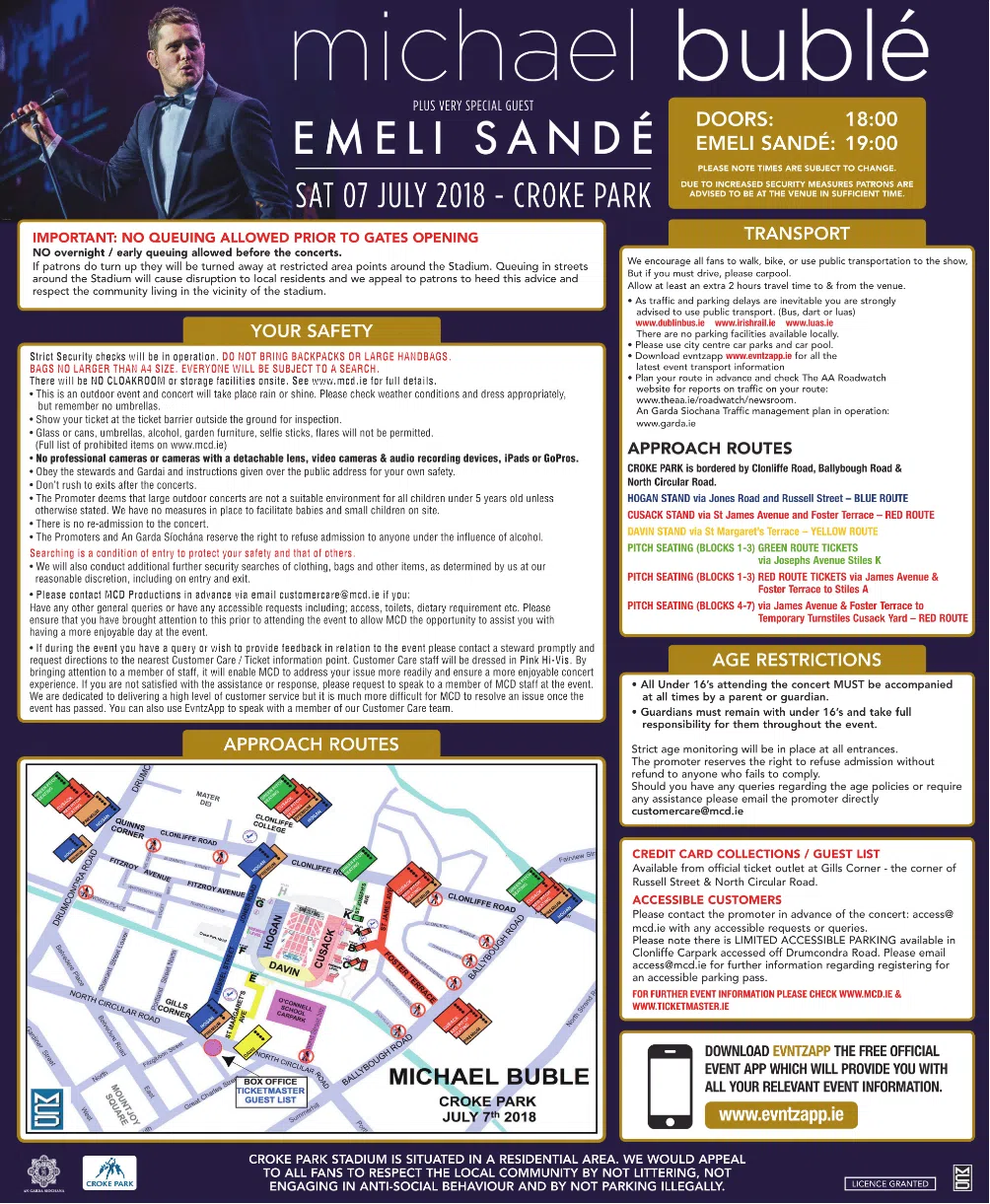 PLEASE NOTE TIMES ARE SUBJECT TO CHANGE. DUE TO INCREASED SECURITY MEASURES PATRONS ARE ADVISED TO BE AT THE VENUE IN SUFFICIENT TIME.
IMPORTANT: NO QUEUING ALLOWED PRIOR TO GATES OPENING
NO overnight / early queuing allowed before the concerts.
If patrons do turn up they will be turned away at restricted area points around the Stadium. Queuing in streets around the Stadium will cause disruption to local residents and we appeal to patrons to heed this advice and respect the community living in the vicinity of the stadium.
Your Safety
• Do not bring backpacks or large handbags. There will be no cloakroom or storage facilities on site. Bags must not be left at entrances or surrounding areas. Any items left will be removed and disposed of accordingly.
• This is an outdoor event and concert will take place rain or shine. Please check weather conditions and dress appropriately, but remember no umbrellas.
• Show your ticket at the ticket barrier outside the ground for inspection.
• Strict security checks will be in operation. Patrons are especially advised not to bring backpacks or large handbags as you may be refused entry or experience delays on entry. See www.mcd.ie for full details.
There is no cloakroom service available.
• Glass or cans, umbrellas, alcohol, garden furniture, selfie sticks, flares will not be permitted.
(Full list of prohibited items on www.mcd.ie)
No professional cameras or cameras with a detachable lens, video cameras & audio recording devices, iPads or GoPros.
• Obey the stewards and Gardai and instructions given over the public address for your own safety.
• Don't rush to exits after the concerts.
• The Promoter deems that large outdoor concerts are not a suitable environments for all children under 5 years old unless otherwise stated. We have no measures in place to facilitate babies and small children on site.
• Allow additional time to get through security checks
• There are no re-admissions to the concert.
• The Promoters and An Garda Síochána reserve the right to refuse admission to anyone under the influence of alcohol.
Searching is a condition of entry to protect your safety and that of others.  
Due to increased security measures we strongly advise you allow sufficient time to get through security checks to gain entry to the venue in a safe and timely manner.
To ensure as smooth an access as possible and to avoid any unnecessary delays we strongly suggest that you bring as little as possible with you to the event and minimize jackets and additional layers when possible. To avoid disappointment do not bring backpacks or larger hand bags, you may be refused admission to the venue without a refund.
We recommend if you are bringing personal bag, purses or clutch bag, you should only bring those of smaller sizes i.e. those measuring no greater than A4. Everyone will be subject to a search.
We will also conduct additional further security searches of clothing, bags and other items, as determined by us in our reasonable discretion, including on entry and exit
Please contact MCD Productions in advance via email customercare@mcd.ie if you:
• Have any queries or accessible requests including access, toilets, dietary requirement etc, please ensure that you have brought attention to this prior to attending the event to allow MCD the opportunity to assist you with having a more enjoyable day at the event.
• If you have any general queries or accessible requests that has not been addressed in the event information provided.
If during the event you have a query or wish to provide feedback in relation to the event
Please contact a steward promptly and request directions to the nearest Customer care /ticket information point. Customer Care/Ticketing staff will be dressed in BLUE HI VIS by ensuring to bring it to the attention of a member of staff, it will enable MCD to address your issue more readily and ensure a more enjoyable experience at the concert. If you are not satisfied with the assistance or response that you have been given, it is your responsibility to request to speak to a member of MCD staff at the event. We are dedicated to delivering a high level of customer service but it is much more difficult for MCD to resolve an issue once the event has passed.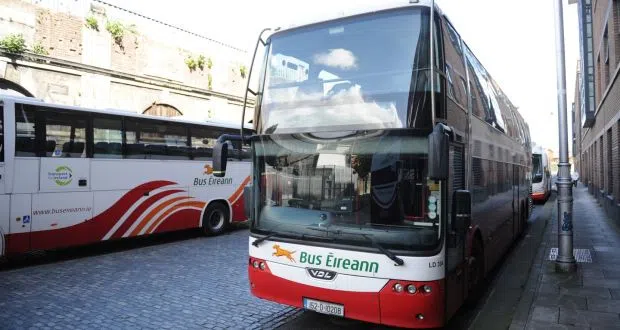 Transport
We encourage all fans to walk, Bike, or use public transportation to the show, But if you must drive, please carpool.
Allow at least an extra 2 hours travel time to & from the venue.
• As traffic and parking delays are inevitable you are strongly advised to use public transport. (Bus, dart or luas) www.dublinbus.ie www.irishrail.ie www.luas.ie
There are no parking facilities available locally.
• Please use city centre car parks and car pool.
• Download evntzapp www.eventzapp.ie for all the latest event transport information
• Plan your route in advance and check The AA Roadwatch website for reports on traffic on your route. www.theaa.ie/roadwatch/newsroom – An Garda Siochana
Traffic management plan in operation: www.garda.ie.
Please see additional rail services below:
22:50 – Drumcondra/Maynooth
23:05 – Drumcondra/Longford
23:55 – Dublin Connolly/Belfast
00:04 – Dublin Connolly/Greystones
00:05 – Dublin Connolly/Howth
23:30 – Dublin Pearse/Dundalk (this service will be deferred until 23:45hrs)
For all additional extra services travelling from Drumcondra to Maynooth go to www.irishrail.ie
Approach Routes 
Croke park is bordered by Clonliffe road, Ballybough road  and North Circular road.
Hogan stand via Jones road and Russell street – Blue route
Cusack stand via St James avenue and Foster terrace – Red route
Davin stand via St Margaret's terrace – Yellow route
Pitch Seating (Blocks 1-3) via Josephs avenue, Stiles K – Green route
Pitch Seating (Blocks 1-3) via St James avenue and Foster Terrace to Stiles A – Red route
Pitch Seating (Blocks 4-7) via St James avenue and Foster Terrace to Temporary Turnstiles Cusack Yard – Red route
Age Restrictions
• All Under 16's attending the concert MUST be accompanied at all times by a parent or guardian.
• Guardians must remain with under 16's and take full responsibility for them throughout the event.
Strict age monitoring will be in place at all entrances.
The promoter reserves the right to refuse admission without refund to anyone who fails to comply.
Should you have any queries regarding the age policies or require any assistance please email the promoter directly customercare@mcd.ie
Credit card collections/Guest list
Available from official ticket outlet at Gills Corner – the corner of Russell Street & North Circular Road.
Accessible Customers
Please contact the promoter in advance of the concert: access@mcd.ie with any accessible requests or queries.
Please note there is LIMITED ACCESSIBLE PARKING available in Clonliffe Carpark accessed off Drumcondra Road. Please email access@mcd.ie for further information regarding registering for an accessible parking pass.
For further event information please check www.mcd.ie and www.ticketmaster.ie
DOWNLOAD THE FREE OFFICIAL EVENT APP (www.evntzapp.ie ) WHICH WILL PROVIDE YOU WITH ALL YOUR RELEVANT EVENT INFORMATION.
With all the behind the scenes preparations in the hands of the promoters, Michael Bublé is preparing for another great performance in Dublin.
He says 'I can't wait to come over to see my fans in Dublin and play Croke Park for my largest ever Irish show!  You guys have been patient and I can't thank you enough for all your support. And for those of you that haven't seen me live, well… I just haven't met you yet!'
With three Number 1 albums to his name, Michael Bublé is an artist welcomed in every Irish household.
Michael Bublé's classic voice, endearing charm and sheer panache have established him as one of the great singers and entertainers.  He has carved a unique place in the hearts of fans around the world and lit up pop charts since his debut album in 2005, bringing jazz standards to a new generation while scoring his own original hits including the unforgettable global smashes 'Home', 'Haven't Met You Yet', 'Everything' and 'Lost'.
Nobody But Me, his seventh major label studio album, was released in October 2016. The record debuted at #2 on the Irish charts and went platinum in the UK.
Emeli Sandé's critically acclaimed number one record, Our Version Of Events was the biggest selling album of 2012 and second biggest selling album of 2013, scoring three UK number 1 singles and 4.6 million album sales worldwide.
Emeli released her second studio album, 'Long Live The Angels' which became the biggest selling album from a UK female released in 2016.  She went on to win 'Best Female' at the 2017 BRIT Awards, becoming her fourth BRIT Award win to date.  She was also appointed Member of the Order of the British Empire (MBE) in the 2017 Birthday Honours for her services to music.
Michael Bublé with special guest Emeli Sandé live at this fully seated concert in Croke Park this Saturday!
Tickets from €89.50 including booking fee are available now at Ticketmaster