Lion's mane jellyfish have been spotted off the coast of Waterford. The creatures were found near Dunmore East earlier today.
Shane Ryan is a lifeguard in Dunmore East, he says they're advising people not to swim. "Earlier we got a report of a lion's mane over by Peg's Rock. We went over and spotted it so, we put up the red flag just as a warning. A red flag means it's unsafe to swim." He's asking people to be "aware because a lion's mane can give you a very serious sting".
Five people have been hospitalised after being stung by a lion's mane jellyfish in recent weeks.
The sting is not fatal, but pain can radiate to other parts of the body as well as the affected area.
An above average number of lion's mane jellyfish have been recorded close to high population areas recently.
The season for them is between June and September and they're often found in cooler water.
Research published by NUI Galway and UCC shows rinsing with vinegar and then applying a heat pack for 40 minutes is the best treatment.
NUI Galway Jellyfish Researcher Provides Advice on Lion's Mane Sightings and Stings https://t.co/4rM4SXTmbH pic.twitter.com/YIhpkW1XYf

— NUI Galway (@nuigalway) July 9, 2018
Irish Water Safety has also issued general advice about what to do if you're stung by more common types of jellyfish. It's still recommended that people use hot water or a heat pack if they're stung by a lion's mane or Portuguese man o' war.
Click here to see the Jellyfish ID Card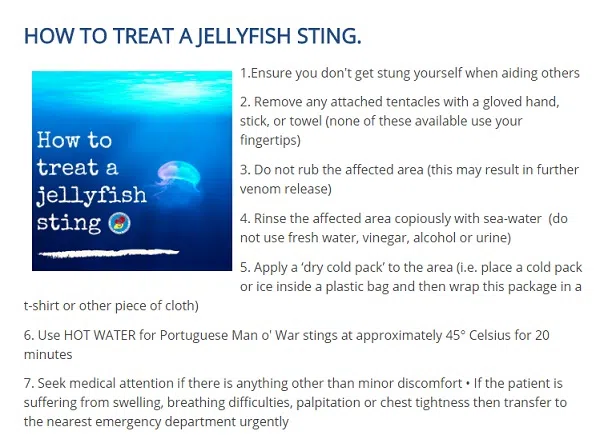 People are being encouraged to report any sightings to the Waterford based National Biodiversity Data Centre.