Stencils encouraging people to quit smoking are popping up across Waterford.
It's part of a regional campaign to provide information about how to Quit and what support is available.
It's a direct outcome of partnership working between the Local Community Development Committees (LCDCs), the HSE, Health and Wellbeing, Youth Reach and Youth Services from across the south east and is funded by Healthy Ireland.
The positive message campaign provides information about how to QUIT, what support is available, how to access support www.QUIT.ie and the rewards of quitting. The overall positive message campaign includes XHale training which was provided by the Irish Cancer Society and was completed by participants and staff in youth reach and out of school settings. This training provides participants with the skills, confidence and materials they need to tackle smoking issues in their youth setting and provides a framework for facilitating a broad range of smoking prevention sessions in an engaging and empowering way with young people.
The positive message campaign set out to move away from the traditional no smoking messages to messages which includes 'you can achieve', 'take the first steps to a healthier life', and 'reach out for help'.
Cllr John O'Leary, Deputy Mayor, Waterford City & County Council, welcomed this initiative, thanked all those organisations involved and congratulated all the young people who engaged with the "We Can Quit" programme.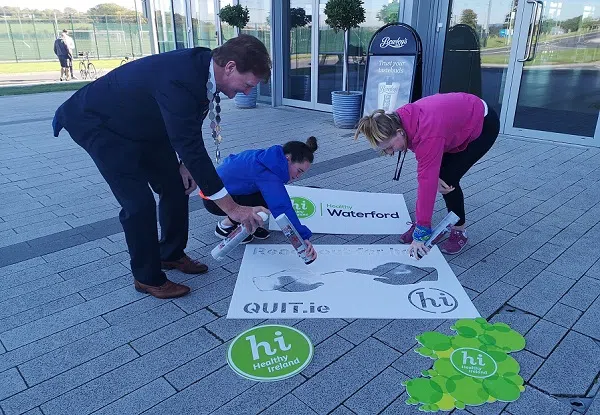 Participating locations in each county include local civic offices, public libraries, Waterford Greenway, public parks, primary care and HSE facilities, secondary and third level education providers, sports facilities and youth services across the region