You know Christmas is coming close..
.. when signs of Winterval start creeping into Waterford City!
Ireland's largest Christmas festival will launch this coming Saturday, November 17th and our very own Teresanne O'Reilly and the WLR Street Team will be there to lend a hand with a very special task – turning on Waterford city's Christmas lights!
Some very special guests will also be in attendance, including International Rose of Tralee Kirsten Mate Maher, the Mayor Declan Doocey AND Mr.Clause himself
They will arrive in John Roberts Square from 4.15pm to turn on the city's Christmas lights at 5pm, with music provided by local band, Brass & Co.
Winterval 2018, will run from 17 November to 23 December with over 60 free and ticketed events.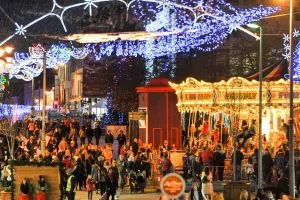 What Else Is Going On
Kicking off festivities this Saturday from 2.30pm, Santa's elves will hit the streets of Waterford city for an exclusive "Golden Ticket" giveaway — offering free entry to some of Winterval's top attractions. Clues for the giveaway will be promoted on Winterval's social media channels this week.
The exclusive Winterval Golden Tickets, not available for purchase, provide access for two adults and two children to some of the top highlights of Winterval including the Enchanted Christmas, a brand-new Santa experience at the Old Postal Sorting Centre; the Winterval Express Train and Sleigh; Winterval on Ice; and rides on the Waterford Eye, Carousel and Helter Skelter.
You can also get your hands on some Golden Tickets from Teresanne and the WLR Street Team on the day, at home or in John Roberts Sqaure.. just come over and say hello!
Join Teresanne and the WLR Street Team in John Roberts Square this Saturday November 17th from 3-6pm