The South East continues to have the highest unemployment rate in the country.
According to the Labour Force Survey the unemployment rate was 8.6% at the end of the third quarter of this year – 2.6% above the national average.
It's up from 8.2% in Q3 of 2017.
There are now 186,500 people employed in the South East and 17,400 people unemployed. That's compared to 185,900 employed and 16,500 unemployed at the same time last year.
The survey also showed 4,000 fewer people in employment in the South East compared to the second quarter of the year. However, CSO statistician Jim Dalton stressed that these figures aren't seasonally adjusted. He told WLR News that "the important thing to note when you're looking at the employment and unemployment figures for the regions is that the numbers are not adjusted for seasonality effects".
"When you're comparing the results it's best to compare it on an annual basis. For example, comparing Q3 2017 with Q3 2018, and when you do that the increase in employment for the South East region is in the order of 600 extra people working. The unemployed number has also increased by 900 and in the overall context these proportions are quite marginal."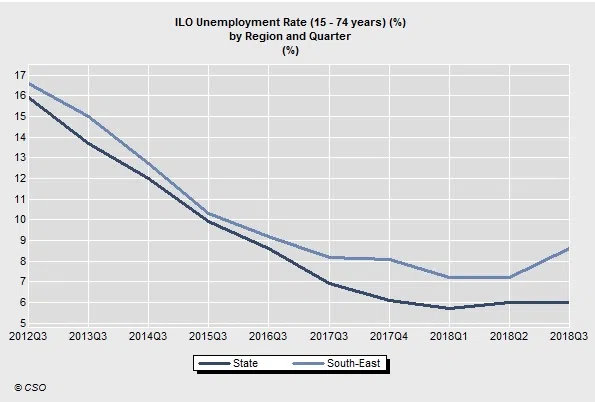 Nationally the Labour Force Survey shows employment in Ireland is continuing to grow.
The employment rate is up 3% so far this year while unemployment is down 12.1%.
Almost 2.3 million people in Ireland are now in work.
Employment increases by 3.0% in year to Q3 2018https://t.co/ME4fRgnFKf#CSOIreland #Ireland #LabourForceSurvey #Employment #Unemployment #Jobs #LabourMarket pic.twitter.com/652acNoNNe

— Central Statistics Office Ireland (@CSOIreland) November 20, 2018
Jim Dalton says more people have a job than ever before: "The overall message is that the economy is performing well. Employment is increasing all the time. Unemployment is decreasing."
"The long-term unemployment rate is now 2.1%. It was 2.7% last year."
"So the proportion of people that are unemployed, that are long, is declining all the time."