The 2018 WLR Christmas Appeal officially kicked off in early December, but a number of events and fundraising initiatives took place throughout November, and we still have a few more to go!
So far, over €75,000 has been raised for the SVP across Waterford City and County, with 100% of the money raised going to the charity to support their ongoing services across Waterford City and County. The services provided not only include financial assistance for food, bills, rent, fuel and electricity where necessary, but also, towards the services that support people in making a better life for themselves and their families. These services including providing childcare so parents can get back to work without the burden of crippling childcare costs, and assistance with funding for school and college. We want to help the Society of Saint Vincent de Paul break the poverty cycle in Waterford long term, but we can't do that without your help. So thank you for your support and involvement so far.
Remember – you can text APPEAL to 50300 to give €4 to the SVP in Waterford City and County.
Here are some of our favourite moments from the WLR Christmas Appeal so far!
Mark White completes 5,000 pull ups and raises over €3,000
Huge well done to Mark White from Taekwondo and Fitness Limited who's raised €3,000 and counting for SVP in Waterford through the WLR Christmas Appeal by doing 5,000 pull ups! Here he is completing the final few at Holy Cross N.S Tramore. Tune into the Drive Home with Teresanne on WLR today to hear more..

Posted by WLR FM on Monday, December 3, 2018
2. The Ultimate Premier League Quiz took place in The Cove Bar and raised over €1,600
3. Over 1500 people took part in the Official Wear Red Day helping us raise over €10,000 (with money still coming in!)
4. The Dungarvan Community Concert is always one of our favourite events at Christmastime
5. The Waterford Road Runners Santa Run is always great fun (despite the weather! Brrr…)
6. Fresh Éire returned for a second year and with 5 llive acts over 2 rooms, it drew great crowds and raised in excess of €2,000 for the WLR Christmas Appeal.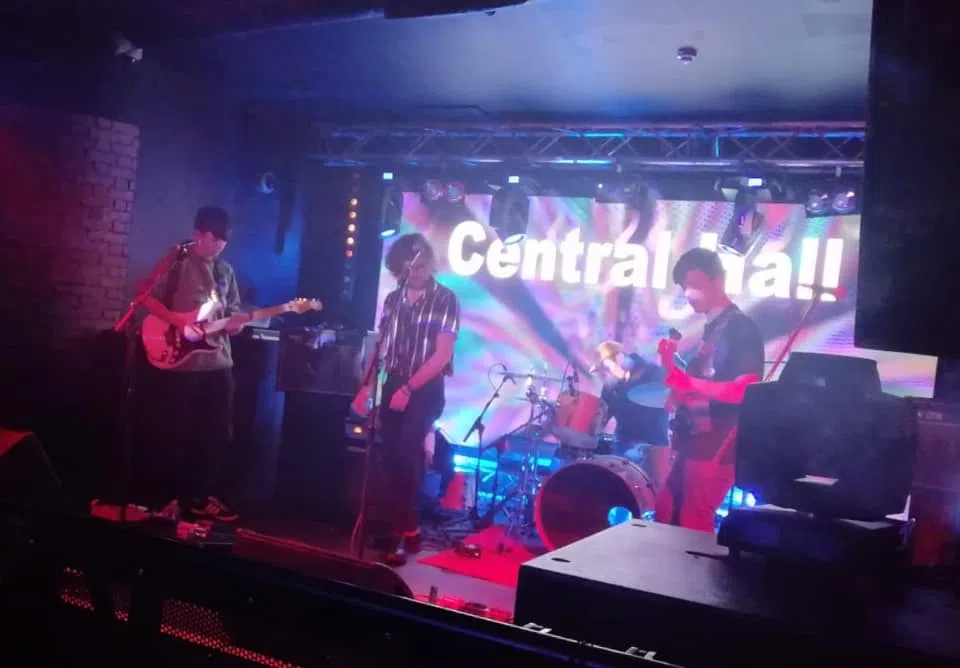 7. The Annual Farmview Auction is always a huge success. This year, Kieran O'Connor and Sean Organ were joined on air by Ardmore hurler Declan Prendergast, Farmer of the Year Gillian O'Sullivan and NDC Quality Award winner Tom Power manning the phones. Over €6,500 was raised in less than 2 hours on air.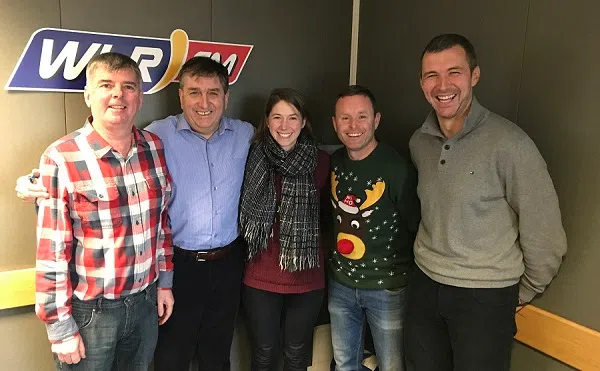 8. The Giving Grid was a new addition for 2018, where people, businesses, clubs and organisations across Waterford can buy a square on the grid, anything from €1-€200, and have a photo or logo of their choice published in their chosen square. By selling all 200 squares, WLR, in partnership with the Waterford News & Star, can raise in excess of €20,000 for the WLR Christmas Appeal in aid of the SVP in Waterford City and County.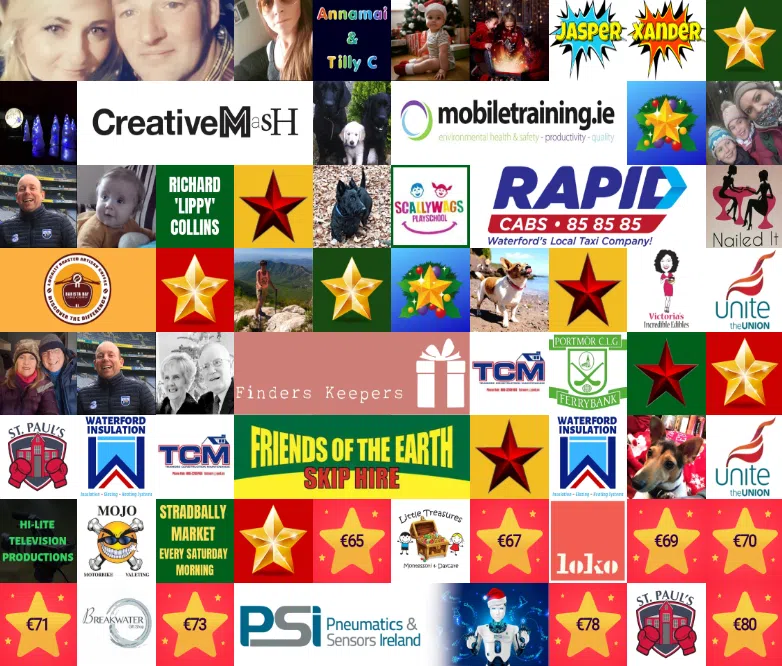 9. The biggest fundraiser of the WLR Christmas Appeal this year was undoubtedly the Waterford Warriors 24 Hour Row, where 10 land based rowing machines were in action for 24 consecutive hours, manned by a team of almost 240 people. Collectively they raised €26,404, every cent of which goes directly to the SVP in Waterford.
10. The people of Waterford getting involved to raise money for a great cause! There was a myriad of fundraising events that took place in the build up to Christmas, including a raffle for a rare bottle of Red Spot whiskey auctioned by World Wide Wines, a raffle held at the Dart Kings event in WIT Arena, the Waterford Fire Service Collection, coffee mornings held in Liberty Blue Estate Agents, Nevin Construction and Danny's in Kilmacthomas, an evening of music hosted by the Waterford Writers Week, the Thatch Pub Quiz and the Annual T-Bay Christmas Day Splash & Dash, and everyone who popped money in a bucket or sent a text to 50300 to give €4.
We couldn't raise this money without you!
From all of us in WLR,
THANK YOU!