Teen music magazine Smash Hits is to return as a once-off to mark the return of Channel 4 show Derry Girls.
The publication that featured interviews with pop stars, as well as song lyrics and posters, was a staple for the younger generation from the late '70s to the early noughties.
Despite ceasing to be published in 2006, Smash Hits will make a once-off return to coincide with the third and final series of hit show Derry Girls, airing on Channel 4 from April 12th.
The sitcom, set in Derry in the 1990s, has been a massive hit in both Ireland the UK, and the first season is currently available on Netflix.
The show, created by Lisa McGee, follows the lives of a group of school friends against the backdrop of the Troubles.
What's in the new edition of Smash Hits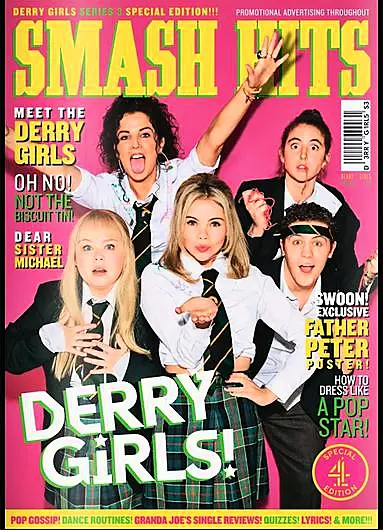 The return of Smash Hits to celebrate Derry Girls will see a 28-page magazine full of 1990s nostalgia and 'last-day-of-school-chaos'.
The magazine front cover features the cast Clare Devlin (Nicola Coughlan), Michelle Mallon (Jamie-Lee O'Donnell), Erin Quinn (Saoirse Monica Jackson) and Orla McCool (Louisa Clare Harland) along with the 'wee English fella' James Maguire (Dylan Llewellyn).
There will also be a pull-out double poster of the cast, and plenty of Derry Girls inspired features including 'How to Dress like a Wee Popstar' and references to stars of the '90s era such as East 17 and All Saints.
More than 150,000 copies will be handed out across the UK and Ireland as well as included with this week's issues of Heat and Closer.
Meanwhile music fans will be happy to hear that tickets are still available for Waterford festival All Together Now. More here.