Two men have been arrested this evening after a car crashed onto a roundabout in Dungarvan shortly after 7pm.
The incident occurred at the Shandon Roundabout, where a vehicle approaching the roundabout from the left hand side failed to slow down, and subsequently mounted the roundabout.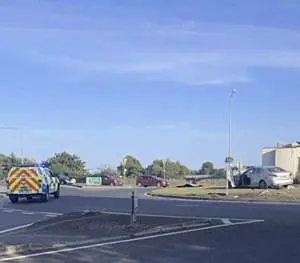 No injuries were reported as a result of the collision.
Gardaí in Dungarvan arrived at the scene and two men were arrested and brought to Dungarvan Garda Station.
The driver of the car has since been charged, and will appear before the courts.
Both men have since been released.
Gardaí are appealing for anyone who may have witnessed the incident or those who may have dash cam footage to contact Dungarvan Garda Station on (058) 48600.