The 2023 Tour de Munster charity cycle has raised €417,077.72 in aid of the Munster branches of Down Syndrome Ireland (DSI).
The grand total was revealed at a cheque presentation on November 17th which saw cyclists, supporters and DSI Munster branches come together to celebrate the achievements of this year's Tour.
Celebrating 23 years since its inception, the highly regarded and indispensable Tour de Munster charity cycle has now raised over €5 million.
This is the 14th successive year that DSI has been the main beneficiary of the charity cycle, with the Tour raising €4.4 million alone for Down Syndrome Ireland's Munster branches.
In total, the tour raised over €442,000 with some cyclists raising funds for other charities near and dear to their hearts, including West Cork Down Syndrome Support Group, West Cork Jesters and Enable Ireland.
The funds raised will continue to make a tremendous difference to the lives of people with Down syndrome in Munster, as well as their friends and families by providing vital services and facilities in each county which they so heavily rely on.
The 2023 charity cycle witnessed over 120 amateur cyclists embarking on a challenging 600km journey through the six counties of Munster from August 10th to the 13th.
These cyclists, with the support of their friends, family, and dedicated volunteers along the route, covered their own expenses to ensure that all the funds raised directly benefited DSI and the individual beneficiaries.
Sean Kelly, a longtime supporter of Tour de Munster, once again joined the cycling group for the Tour, covering an average of 150 km per day through the picturesque towns and villages of Cork, Waterford, Tipperary, Limerick, Clare, and Kerry.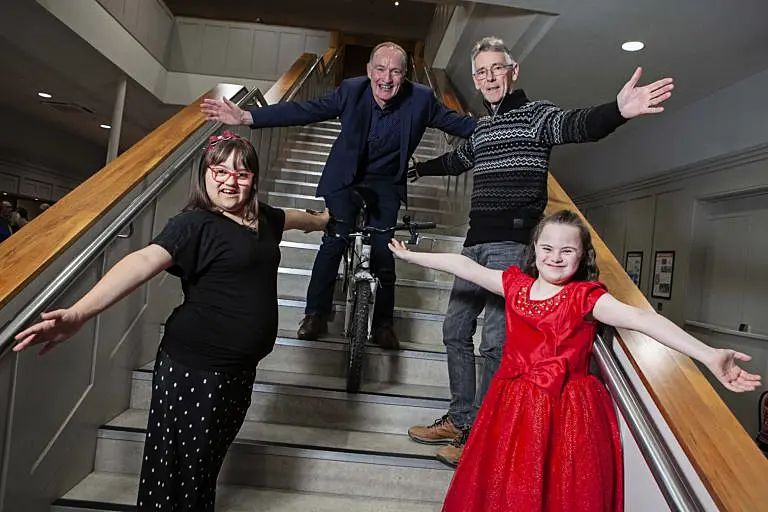 Paul Sheridan, the founder of Tour de Munster, expressed his profound gratitude for the overwhelming support the tour received. Speaking during the cheque presentation, Paul remarked:
"I am immensely proud of our cyclists this year for their unwavering dedication and extraordinary fundraising efforts. Thank you to the donors, whose generous donations will make a profound impact to DSI's Munster branches. We are immensely thankful to the numerous companies and individuals who have steadfastly supported the Tour over the past 23 years. I would also like to thank Munster Rugby who provided invaluable support and platforming for our cause through our official charity partnership".
Thanking all those who supported the Tour de Munster this year, Mary Foskin of Down Syndrome Waterford and south-Kilkenny said:
"I would like to thank everyone involved in the year's Tour, who went above and beyond to raise vital funds for the members of the DSI Waterford branch. The monies raised will go a long way in order to continue providing supports and services that positively impact all of our members. Many new friends have been made among all participants and supporters in this year's Tour. It is the people involved that truly make this initiative a fantastic experience."
WLR FM, Clare FM, Tipp FM, Red FM, SPIN Southwest and Pure Radio were the Official Media Partners of Tour de Munster 2023.
Down Syndrome Ireland (DSI) Munster Branches and Tour de Munster are an official charity partner of Munster Rugby.
For further information about Tour de Munster visit www.tourdemunster.com or find it on Facebook. For further information on Down Syndrome Ireland please see www.downsyndrome.ie.