Andrew Baldock, PA Rugby Union Correspondent, Paris
France captain Antoine Dupont's Rugby World Cup campaign is in doubt after he sustained a facial fracture.
Dupont (26) suffered the injury in France's record 96-0 win against Namibia on Thursday following a clash of heads with Johan Deysel.
The Namibia centre's yellow card for the collision in the 45th minute, with France leading 54-0, was upgraded to red following a review by the television match official.
Antoine Dupont steadies himself after a reckless tackle that may rob #RWC2023 of the world's best player.

For 40 minutes, Dupont was otherworldly in a dazzling France side.

It seemed impossible he could leave the pitch dazed and tearful.

Devastating. pic.twitter.com/vegF5nbqu4

— Progressive Rugby (@ProgressiveRug) September 22, 2023
The French Rugby Federation confirmed the extent of Dupont's injury on Friday, but said it was uncertain for how long the scrum-half will be unavailable.
A tearful Dupont went to hospital in nearby Aix-en-Provence, and the French Rugby Federation said: "Specialised surgical advice was requested to assess how long he will be unavailable for."
France's final pool game is against Italy in Lyon on October 6th, before a quarter-final – probably against Ireland or South Africa – the following weekend.
If Les Bleus reach the semi-finals, they take place in Paris on October 20th and 21st.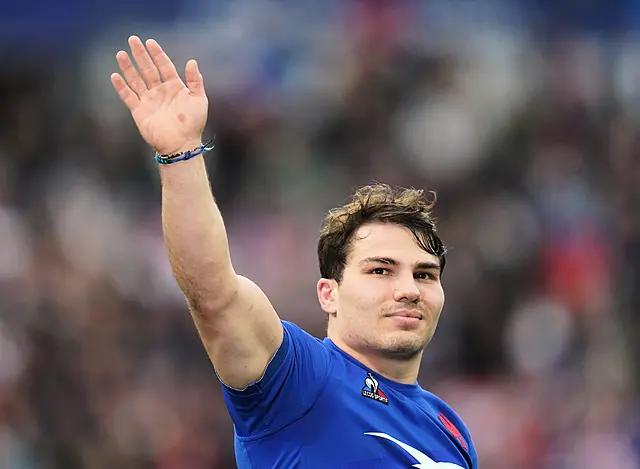 Former world player of the year Dupont has been the star performer in a resurgent French team under the direction of head coach Fabien Galthie.
And while it is hoped he can return before the end of the tournament, there must also be doubts about his future participation as France target a first world title.
France attack coach Laurent Labit said on Friday: "We always have a hope that Antoine will continue the adventure with us.
"We will leave the time for two-three days to have the opinion of a specialist. It's Antoine and the surgeon who will make the decision.
"For us, Antoine hasn't finished the competition. We have three days in front of us. We hope to have good news after the three days.
"He is in hospital now. He will leave by the end of the morning.
"Antoine certainly imagined the worst before the first examinations. After the initial tests, Fabien (Galthie) went to see him.
"Today, we are just waiting for the appointment with the specialist to see what he can or can't do, and when he can return to training. That is what Antoine is focusing on at the moment.
How things stand in Pool A after #FRAvNAM ⬇️#RWC2023 pic.twitter.com/m4N7B3nCjK

— Rugby World Cup (@rugbyworldcup) September 21, 2023
"Antoine stays with us. Everyone will be together. We will do as we have always done with short-term injuries in hoping that the opinion of the surgeon is positive for Antoine and us.
"The specialist will give the verdict and Antoine will make the decision. We will respect that.
"The specialist knows who Antoine Dupont is, what competition he is currently playing. It is not an average subject."