Some of the best sailors in the country are taking part in the 1720s European Championships which begin in Dunmore East today (Thursday).
It's the first time Waterford Harbour Sailing Club is hosting the event, which runs from today until Saturday.
28 sportsboats, crewed by 5-6 sailors, are taking part in the nine-race event, which started at 12.30pm.
There are three races each day, with Friday and Saturday's events beginning at 10.55am.
Waterford Harbour Sailing Club (WHSC) captain Julian Hughes told WLR what makes the class so special and what to expect over the weekend:
"They're a cheap and cheerful boat to own and run but you get the best sailors in the country sailing them. It's a class that would be stacked with Olympians and professional sailors," Hughes said. "They're essentially for all the world like a big dinghy, but they're faster than most of the yachts people would be used to" seeing on the water, he said.
He added: "Because Dunmore is a new venue for the class, people are pretty pumped up about it and we have the guts of 28 boats going to show up between today and tomorrow. That's a record fleet, and a great indictment of Dunmore and what Dunmore has to offer. It's a great place to sail because you come off the moorings, you travel 100 metres, and you're in the race area."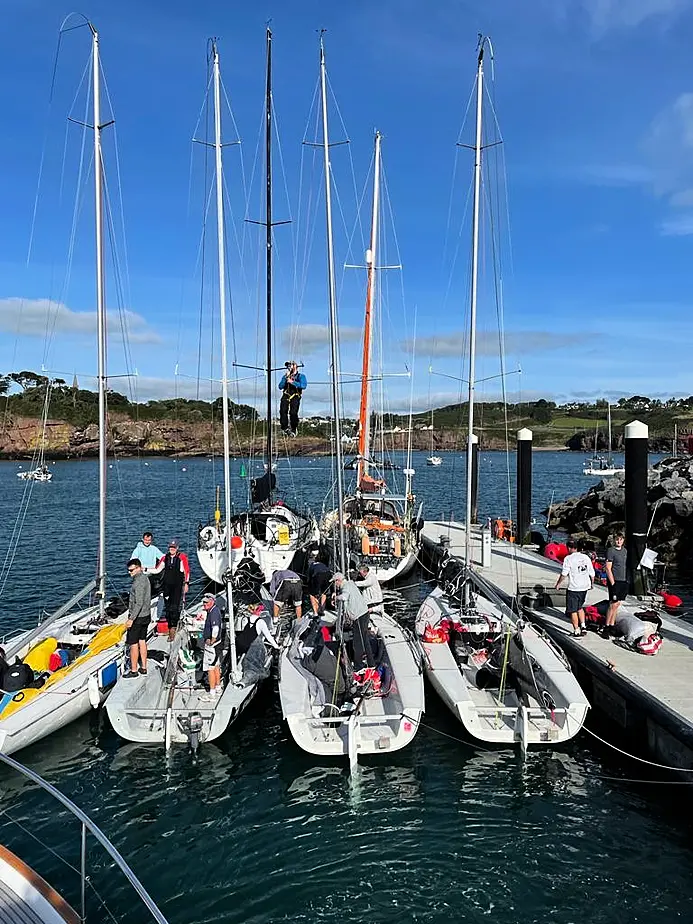 Julian says it will be a great event for spectators with all the action taking place close to the breakwater. The golf course and all along the harbour wall will be great viewing points.
"There'll be quite a few ribs in the water so a lot of people will be out to see it. It's rare in Waterford and Dunmore we get to see the calibre of adult sailors that will be around so it's unique in that sense and there's a bit of excitement in the area, people want to get out and see what's going on."
Although they are the European Championships, the competitors this year are all Irish boats. There are strong contigents from Royal Cork Yacht Club (seven boats) and Baltimore Sailing Club (six boats). There's significant local participation, with six WHSC boats also taking part.
Ordinarily there would be around six from the UK also, but due to the pandemic, this year the entries are all closer to home.