Hollywood actor Mark Wahlberg, star of movies such as 'Daddy's Home' and 'The Departed', is one of a group of celebs who have made a graduation video for the sixth class students at Ballymacarbery Central School. The video, which was arranged by the principal of the school Michael J. O Ryan, includes 3-4 minute messages from celebrities including former soccer player Niall Quinn, rugby star Gordon Darcy, and Johnny B from the 2 Johnnies.
But the biggest surprise for the students came at the end of the video when up pops Hollywood legend and former pop star Mark Wahlberg, or Marky Mark.
In the clip he explains "I heard from your head master Mr O Ryan that you are a lovely bunch but missed out on all your final term and all the nice things like confirmation, graduation mass and many other things that you teachers Clara and Michael had planned. Undoubtedly you will always remember your final year at Ballymacarbery national school."
The story was first reported in the Dungarvan Newspapers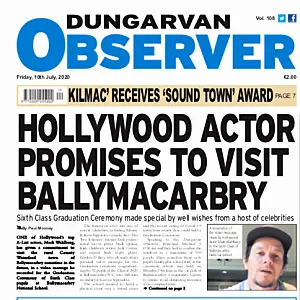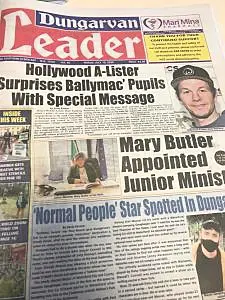 Wahlberg attends the Church of the Good Shepherd in Beverly Hills where the principal of Ballymacarbery school, Michael J O Ryan's uncle is the parish priest. The principal reached out and was delighted when he got a reply from the Hollywood legend and even a promise of a visit some day.
"I have photos of your school and your class. Wow, lovely to see such a happy group. Congratulations, God bless you, many many more to come. Look forward to meeting you all in person, I am coming. I don't know exactly when or how but I am gonna make my way there, God bless you guys, congrats, love you."
The video has the title - Congrats to the Class of 2020!



Watch it in full below.