Waterford City and County Council recently completed the latest addition to the Linear Park at Fairlane in Dungarvan.
The BMX Pump track comprises of a 120-metre-long beginners track and a 420-metre advanced track.
As part of the project, Waterford City and County Council consulted with BMX Ireland and Cycling Ireland for advice on the specification for a BMX Pump Track and to ensure the most authentic 'pump' experience for its users.
Cathaoirleach of the Dungarvan / Lismore District Cllr. Pat Nugent was delighted to officially open the track and said "It's wonderful to see the addition of such an accessible, high calibre track to the park. The feedback from Cycle Ireland, BMX Ireland and the local visitors to the park has been so positive.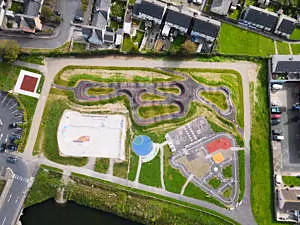 "The amenities in this park have flourished and the Learn to Cycle track, performance area, skatepark, BMX Pump track and the imminent completion of an adult exercise area are all fantastic additions to the community landscape and will encourage people of all ages to get out and about and try something new in a safe, family-friendly outdoor area."
Waterford City and County Council secured funding of €195,000 under the Department of Tourism, Culture, Arts, Gaeltacht, Sport and Media Sports Capital Programme.
Peter Jones, Waterford Sports Partnership commented, "The input of Cycling Ireland and BMX Ireland was invaluable throughout the process. In consultation with their members, we were able to deliver a top-class track that is as accessible to beginners as it is challenging to advanced riders."
Kieran Kehoe, Director of Services with Waterford City and County Council added, "As a Smarter Travel Town, Dungarvan is leading the way in providing outdoor cycle and walking facilities to encourage a more sustainable and healthier lifestyle to all ages. The Local Authority will continue to invest in such amenities so that the benefit can be reaped by everyone in the town and surrounding areas."
The Pump track was constructed in a sustainable manner, applying the principles of the circular economy in terms of reuse of materials and life cycle costing. Recycled aggregates were used in the build-up of all slopes, banks and ramps and these were provided by quarries in the Dungarvan area.
Works were completed earlier this month by contractors Trailbreaker, along with VeloSolutions which developed the plan for the track.
For your latest Waterford News and Sport, click here.