Verdi's Macbeth masterpiece among impressive line-up at Blackwater Valley Opera Festival
Blackwater Valley Opera Festival (BVOF), Ireland's Summer Opera, is returning for eight magical days from 29th May to 5th June with an impressive programme of 21 events at 12 stunning venues, with everything from big tickets to free tickets.
More than 4,500 visitors are expected to attend the world renowned, unique, and inclusive opera and classical music week, which is now in its 13th year. The festival attracts top talent and will welcome 103 international and Irish artists, present 65+ hours of music, and deliver education outreach to an estimated 2,500 local students. And it all happens thanks to the support of 98 volunteers, 100 Friends of BVOF, and 25 sponsors, funders, and partners.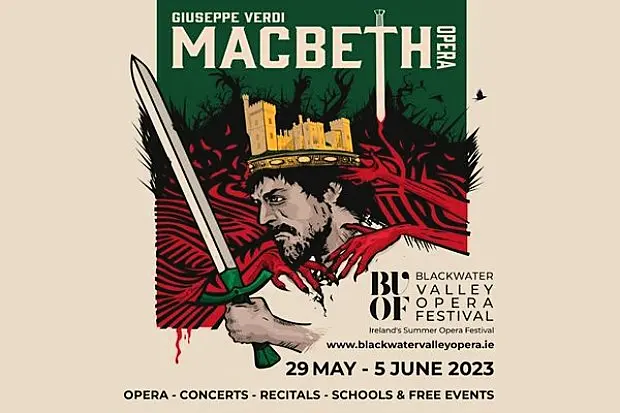 Blackwater Valley Opera Festival has announced a ground-breaking new production of Verdi's Macbeth - conducted by Killian Farrell, directed by Sarah Baxter and in artistic collaboration with the Irish Chamber Orchestra, as the headline event at Lismore Castle Waterford on 31 May, 2, 3 and 4 June.
The first genuine masterpiece of Giuseppe Verdi's career - and first of his three Shakespearean operas - Macbeth is a political thriller full of intrigues, murders, and passion. Verdi created this stunning musical portrait of opera's most power-hungry couple with wonderful, unforgettable arias.
Starring the legendary baritone Leonardo Galeazzi and baritone Vittorio Vitelli, alternating as Macbeth; Serenad Burcu Uyar as the fiendish Lady Macbeth, and world-renowned bass Gorán Jurich as Banco. The supporting cast includes BVOF bursary winners John Porter and Rory Dunne; Emily Hogarty, Andrew Gavin and the Blackwater Valley Opera Chorus.
Listen back to more interviews on The Lunchbox here.