These timeless photos of Waterford City & County from times past are like windows into history, offering a captivating glimpse into the rich tapestry of this beautiful county. Each image tells a story of bygone days, where cobblestone streets wind through the heart of the towns, villages and city, and horse-drawn carriages gracefully navigate the bustling waterfront.
The photographs evoke a sense of nostalgia, transporting us to an era when life moved at a slower pace. These photographs capture the enduring beauty and cultural heritage of a place that has stood the test of time, making us appreciate the deep-rooted history and traditions that continue to shape Waterford's identity today.
As we gaze upon these images, we are reminded of the timeless allure of Waterford City & County, where the past meets the present in a harmonious blend of history, culture, and natural beauty. All of these photos are published Courtesy of the National Library of Ireland. You can view thousands of more photos like this on the NLI website - Click Here
Our thanks to Timeless Colours for permission to use these coloured images.
1. Lismore Co. Waterford c1890
A fascinating Robert French shot that offers a glimpse into community life along the distinctive Streetscape of West Street in Lismore County Waterford.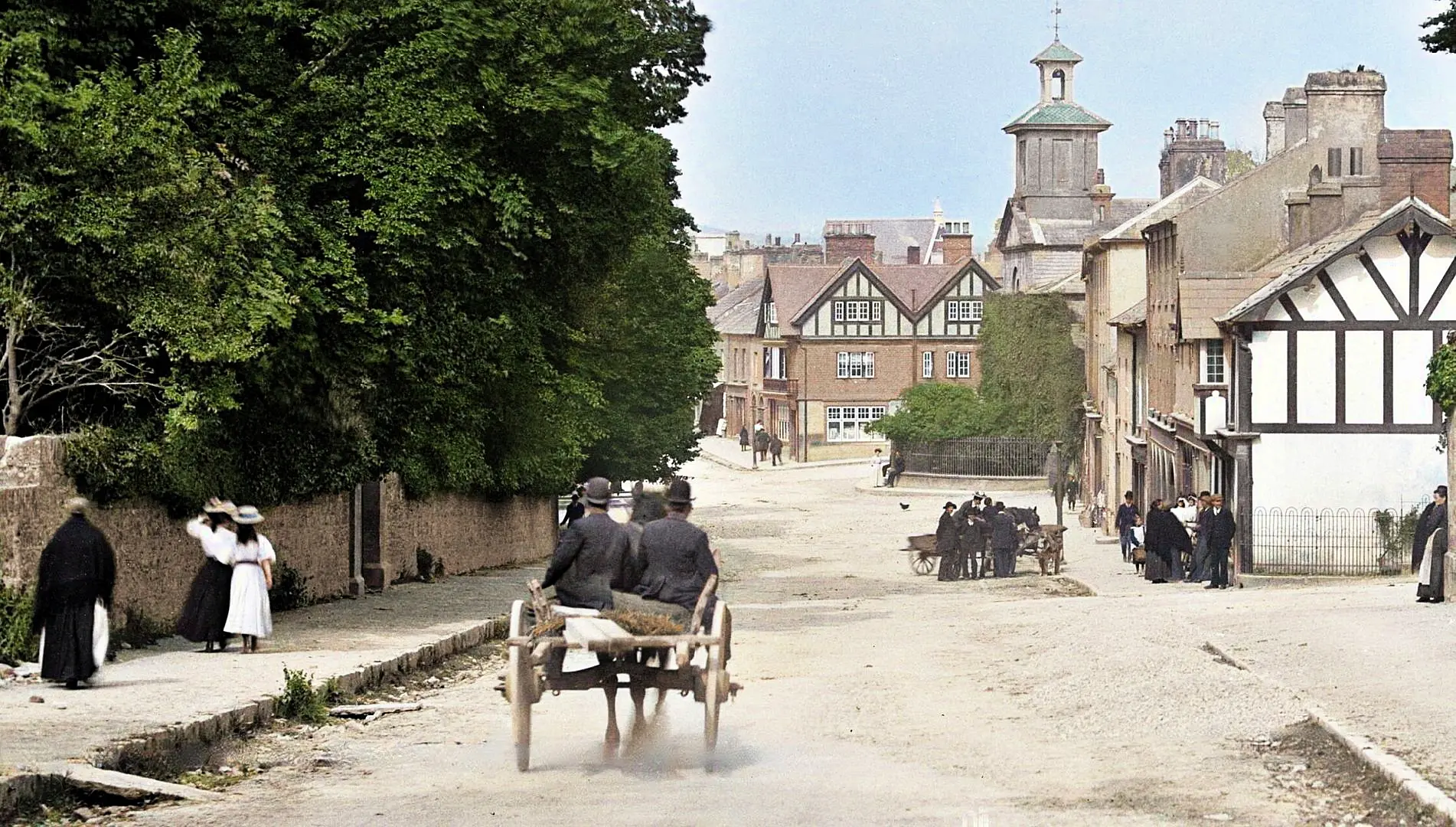 2. Taking a Break in Tramore c1900s,
A lone Cockle Woman takes a well-earned break against the backdrop of Tramore, County Waterford. The train station, Holy Cross Church spire, bathing boxes by the strand, & The Metal Man at Great Newtown Head are all visible in the far distance.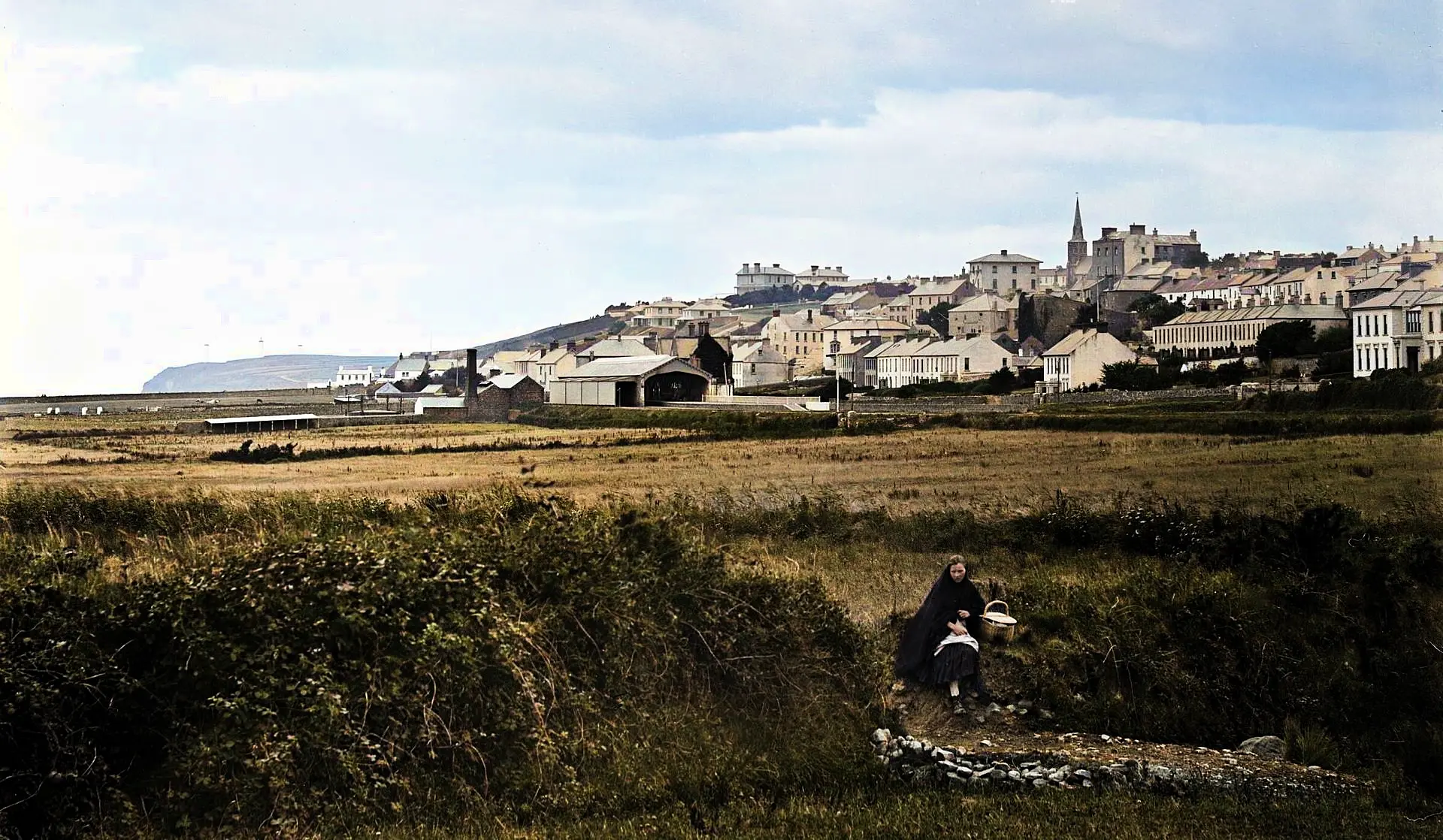 3. Ardmore, Co. Waterford c1950s,
A quiet day at Saint Declan's Church, Ballinamona by Ardmore beach in Ardmore Co. Waterford - with only a period car in the background to date the peaceful scene - but where is everyone?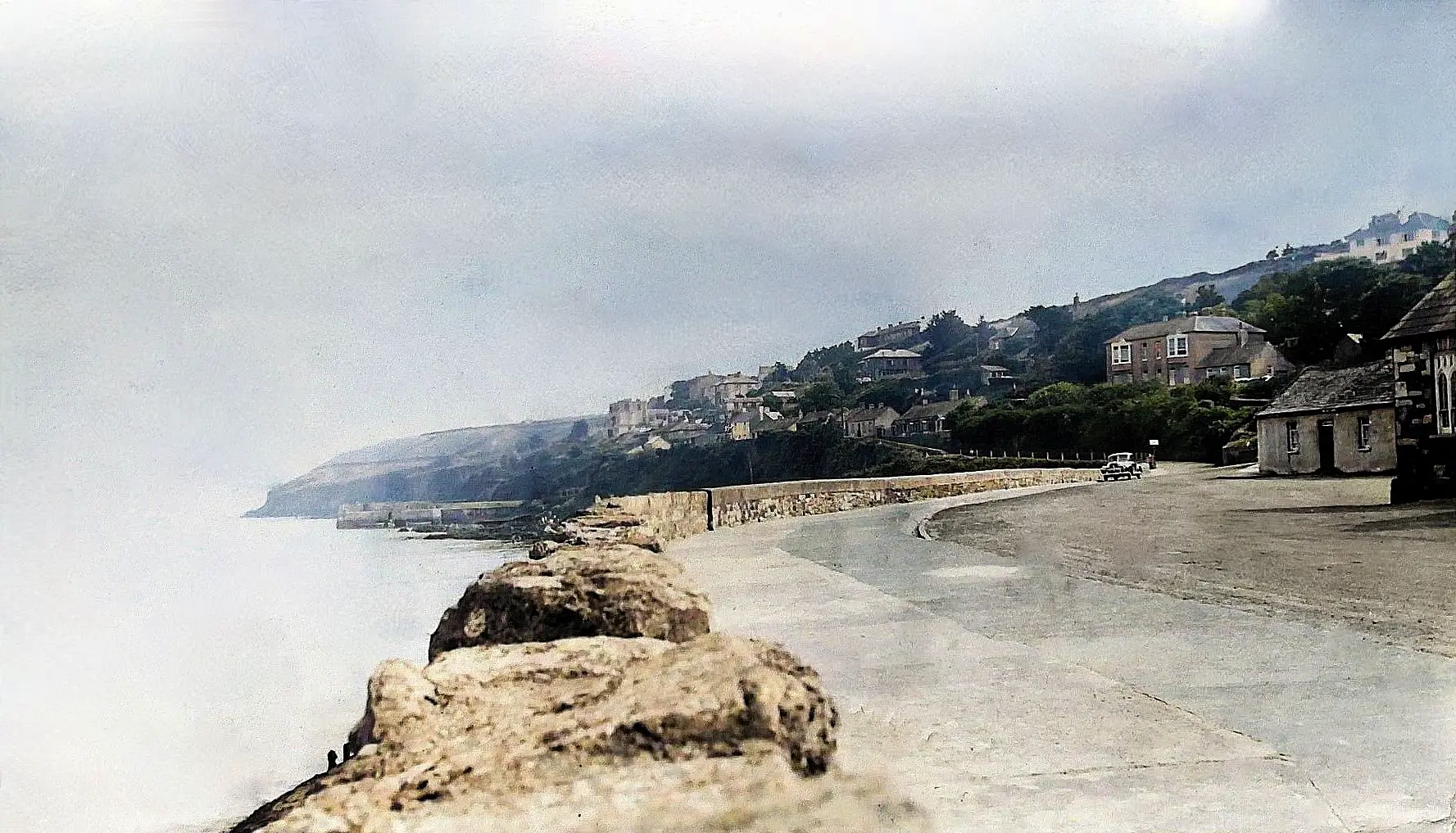 4. c1907, Cappoquin Main Street
Extending Robert French's scene of a hot summer's day on Main Street Cappoquin, Co. Waterford - curious onlookers observe and a horsetrap in seen in front of St Anne's Church to the right.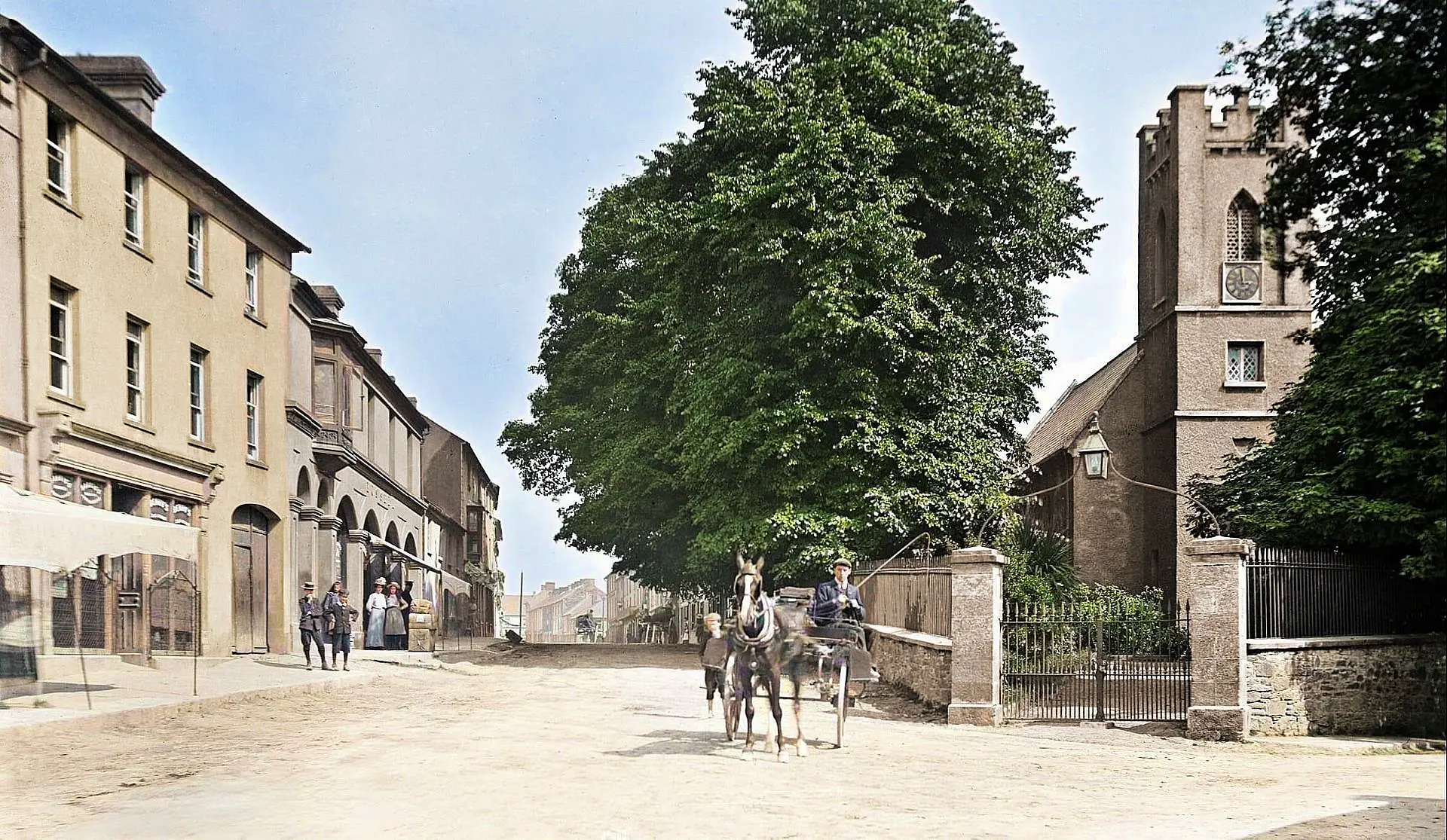 5. c1902, The Ferryman, Dungarvan
Ferry man Paddy MacNamara or just "Paddy Mac", stands by his boat at the Lookout, Dungarvan, Co. Waterford where he ferried people from Dungarvan to the Cunnigar. Abbeyside Church & McGrath's Castle are seen in the background.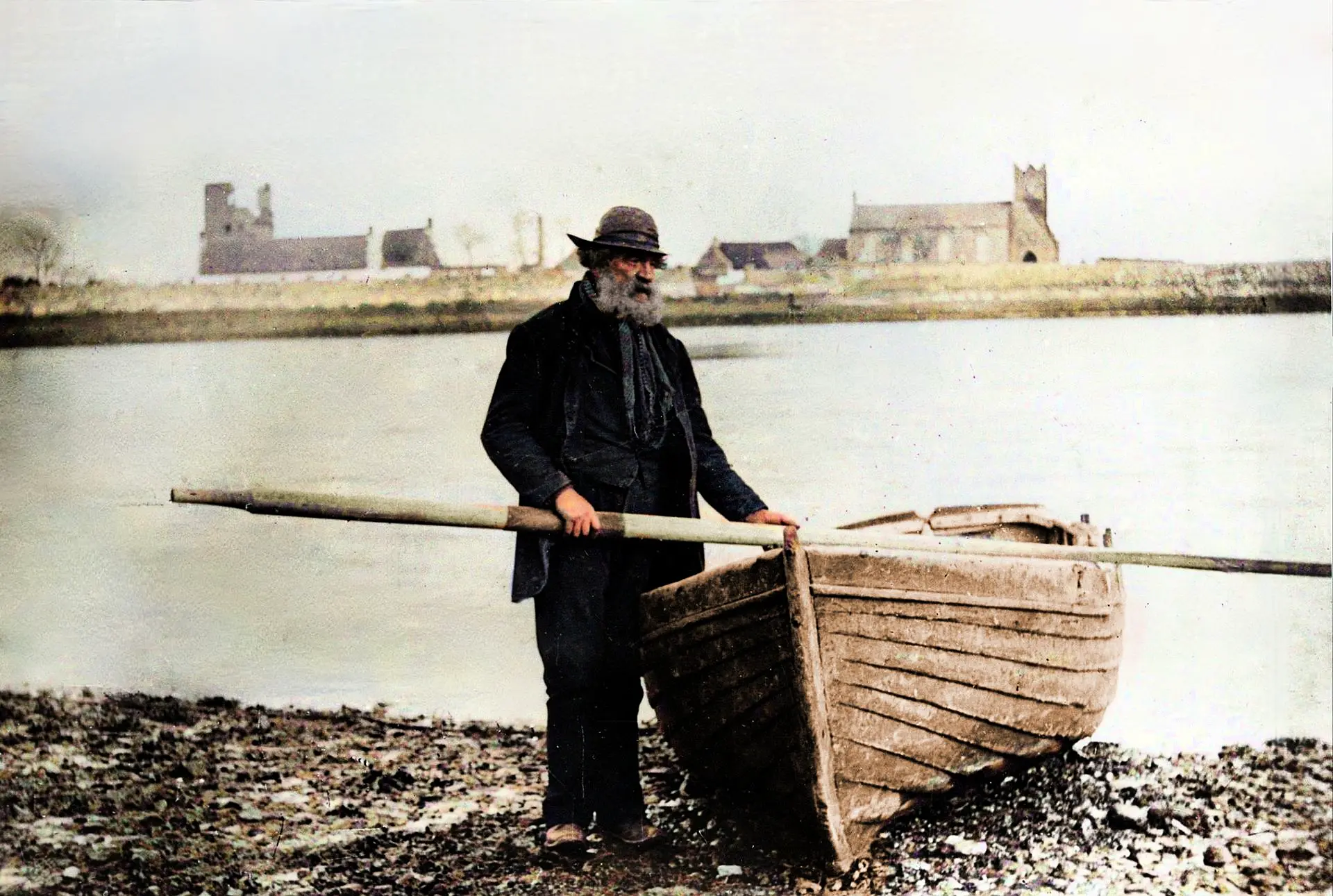 6. c1901, Golfing Ladies, Tramore
A group of ladies and Dr. P. Gallwey enjoying a round of golf at the original Tramore Golf Links - in a snapshot from a general view of the course by Arthur Henri Poole in April 1901.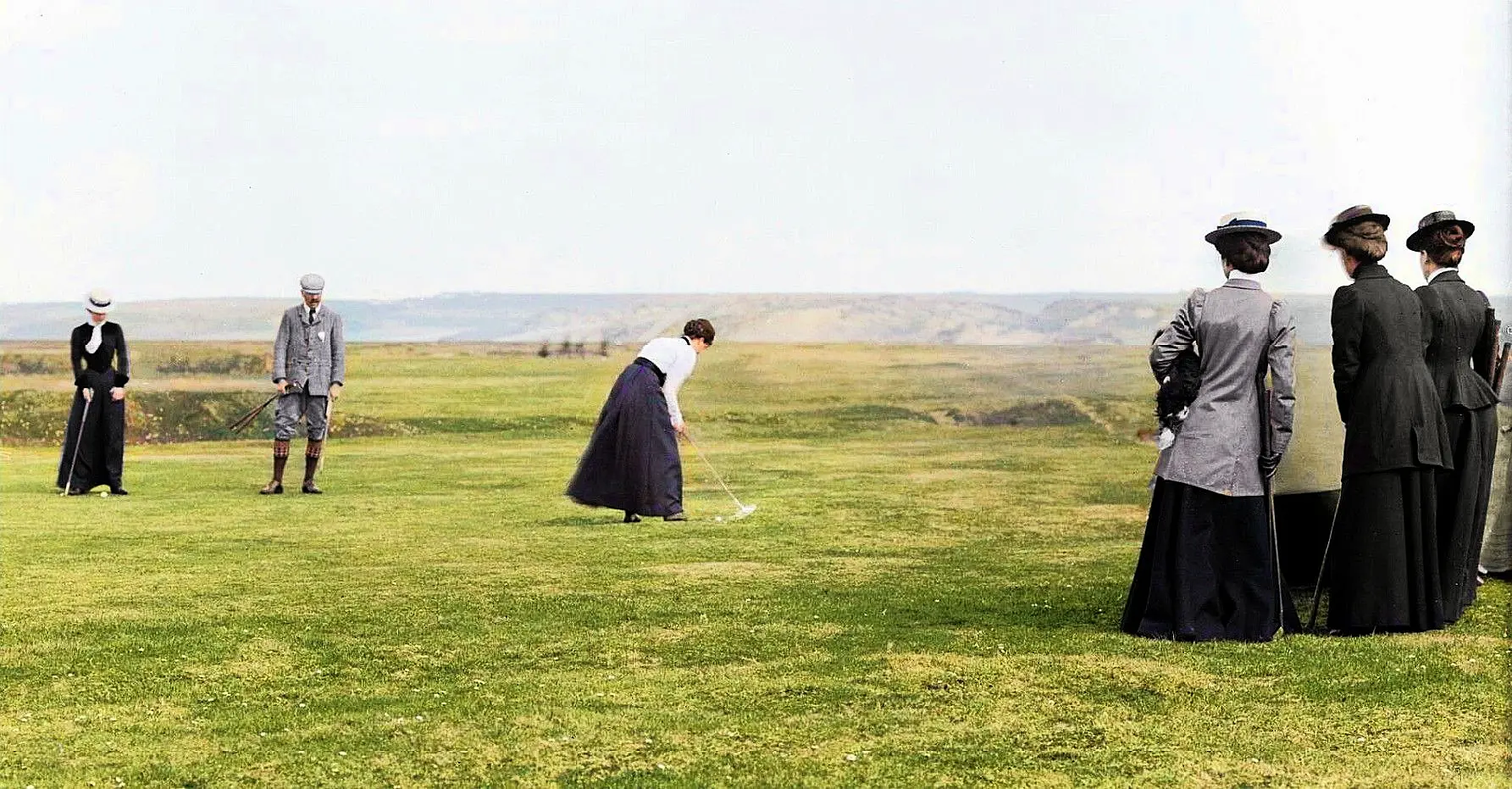 7. c1890, Broad Street / John Roberts Square, Waterford City
Robert French captures everyday life on Broad Street in Waterford City, with shops and shoppers galore. Children skip along, a dog explores, a gentleman walks pensively away with hands behind his back, wonder what he's thinking about? ...a penny for those thoughts.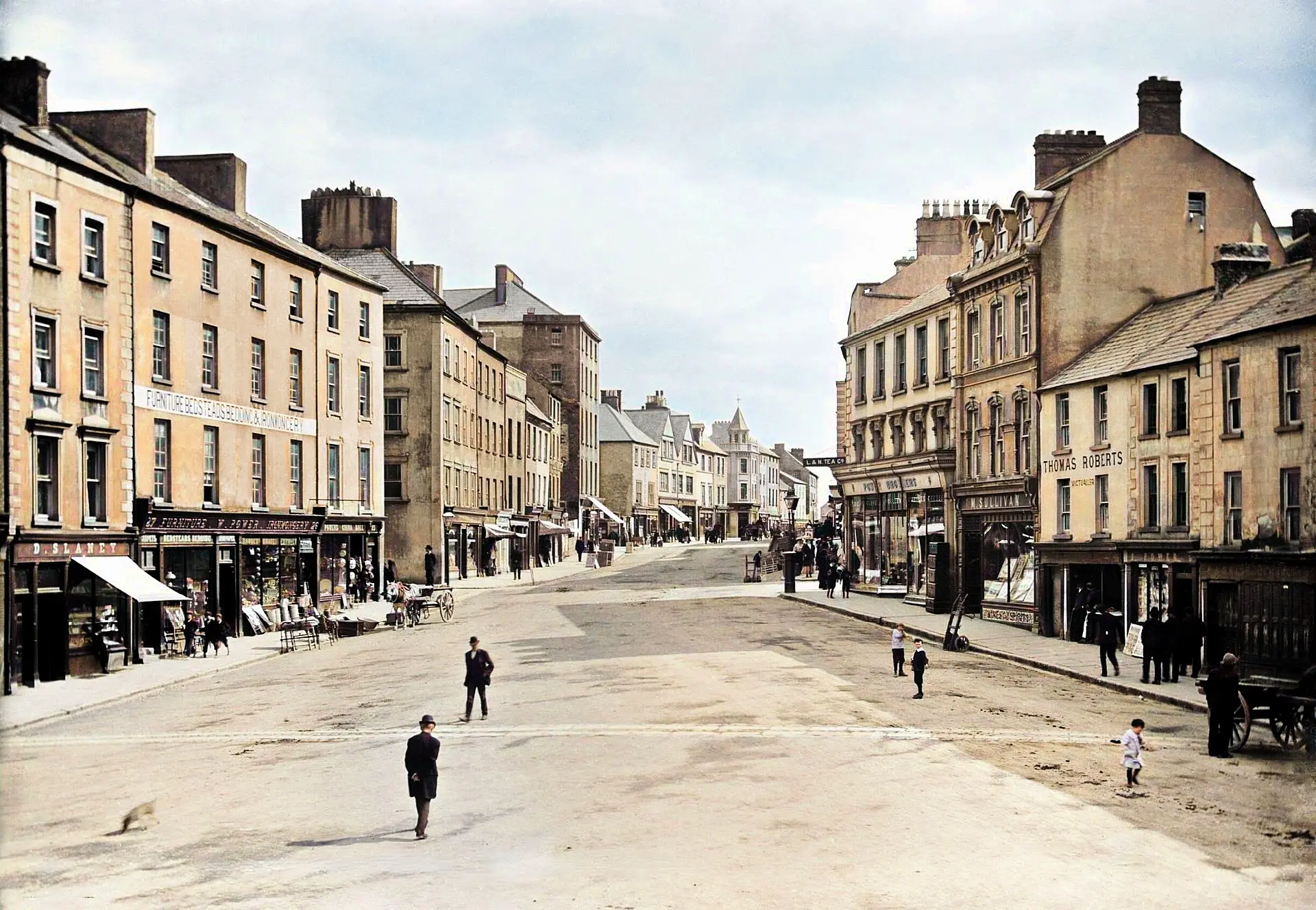 8. c1900, Main Street, Dungarvan
Everyday life on Main Street, Dungarvan, County Waterford around 1900 is brilliantly captured by Robert French as part of the Lawrence Collection held by Robert French.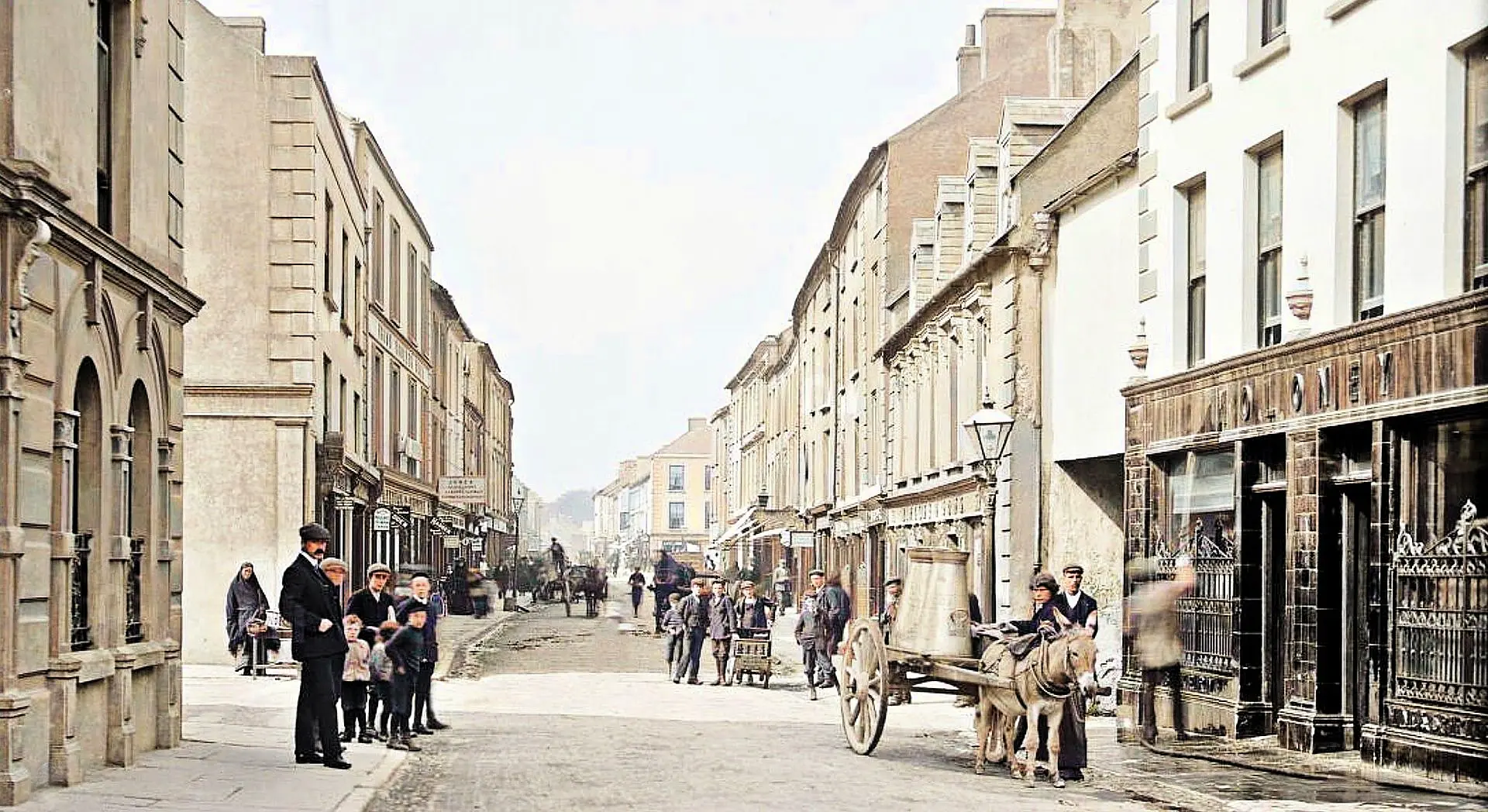 9. c1890, Waterford Quays, Adelphi Hotel & Reginald's Tower
Reginald's Tower & The Adelphi Hotel nestled among an array of historic structures along the picturesque Quays in Waterford City - as expertly captured by Robert French from a vantagepoint on the ferrybank side of a busy River Suir.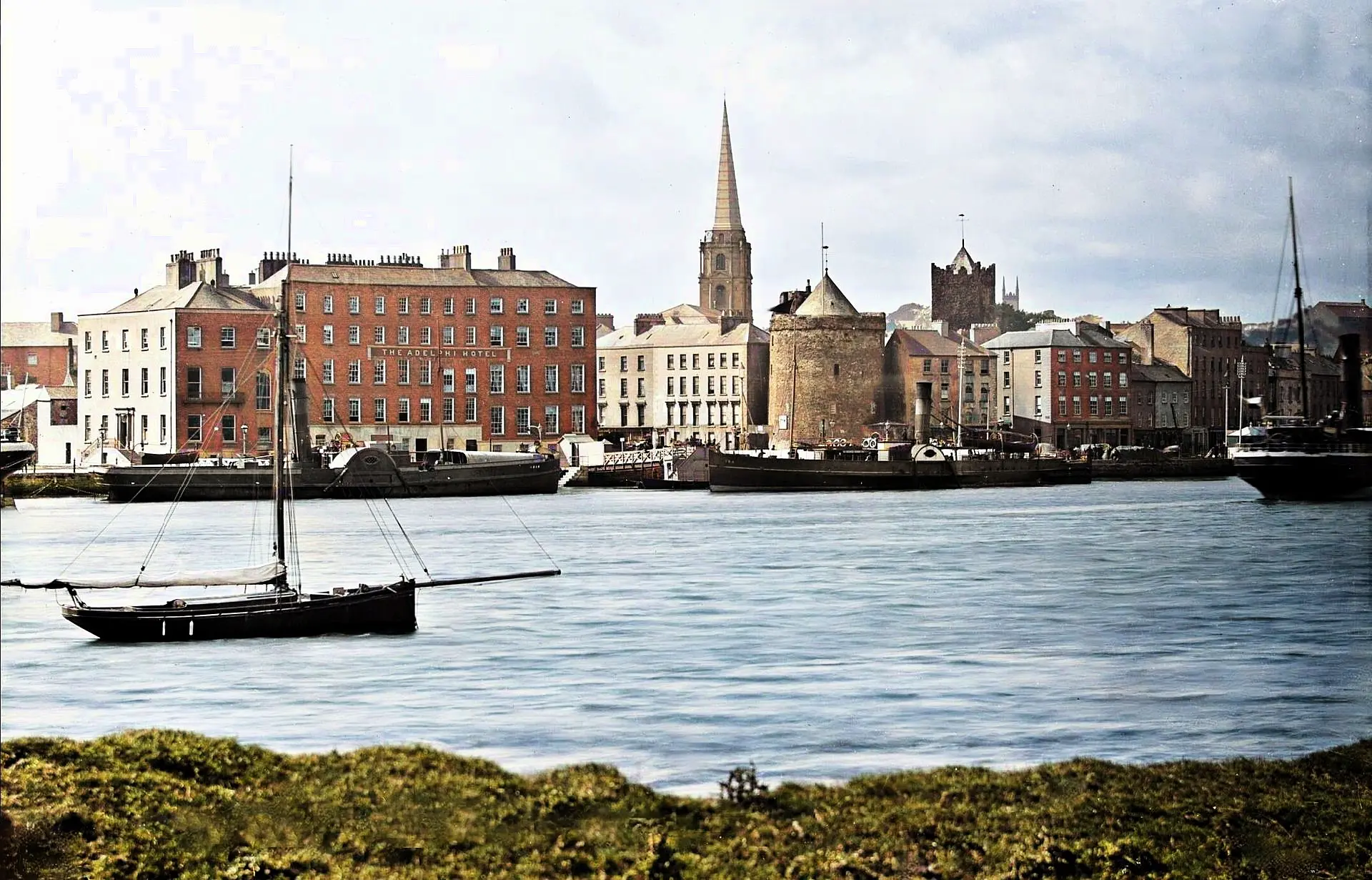 10. c1960, An Rinn Cottages
A view of cottages with a group of men walking by in Baile na nGall (or Ballynagaul) in Ring in County Waterford in about 1960.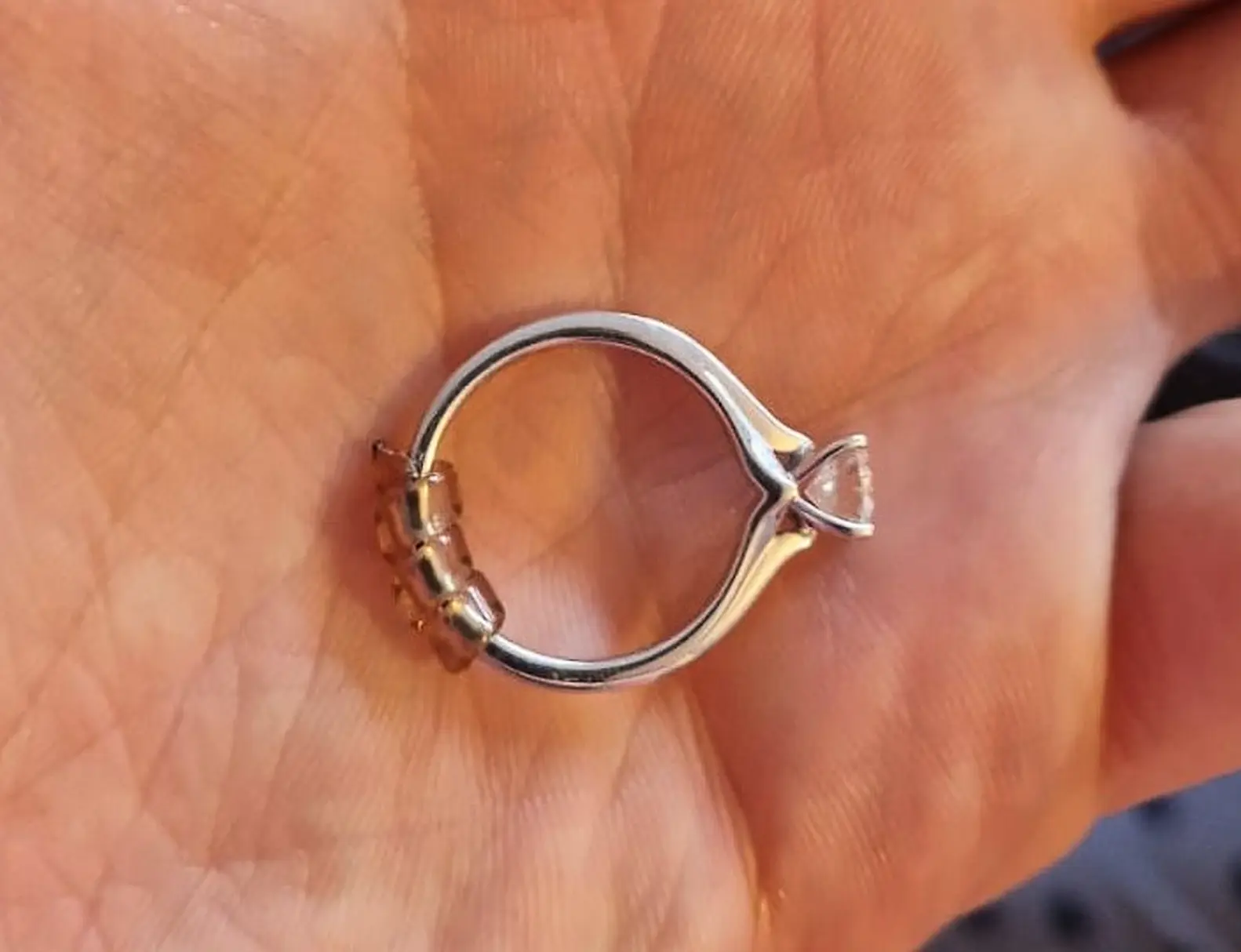 11. c1920s, The Quay, Waterford
An elevated view along the harbour with boats and ships moored and the buildings of the Quay stretched out behind - beautifully captured by William Alfred Green.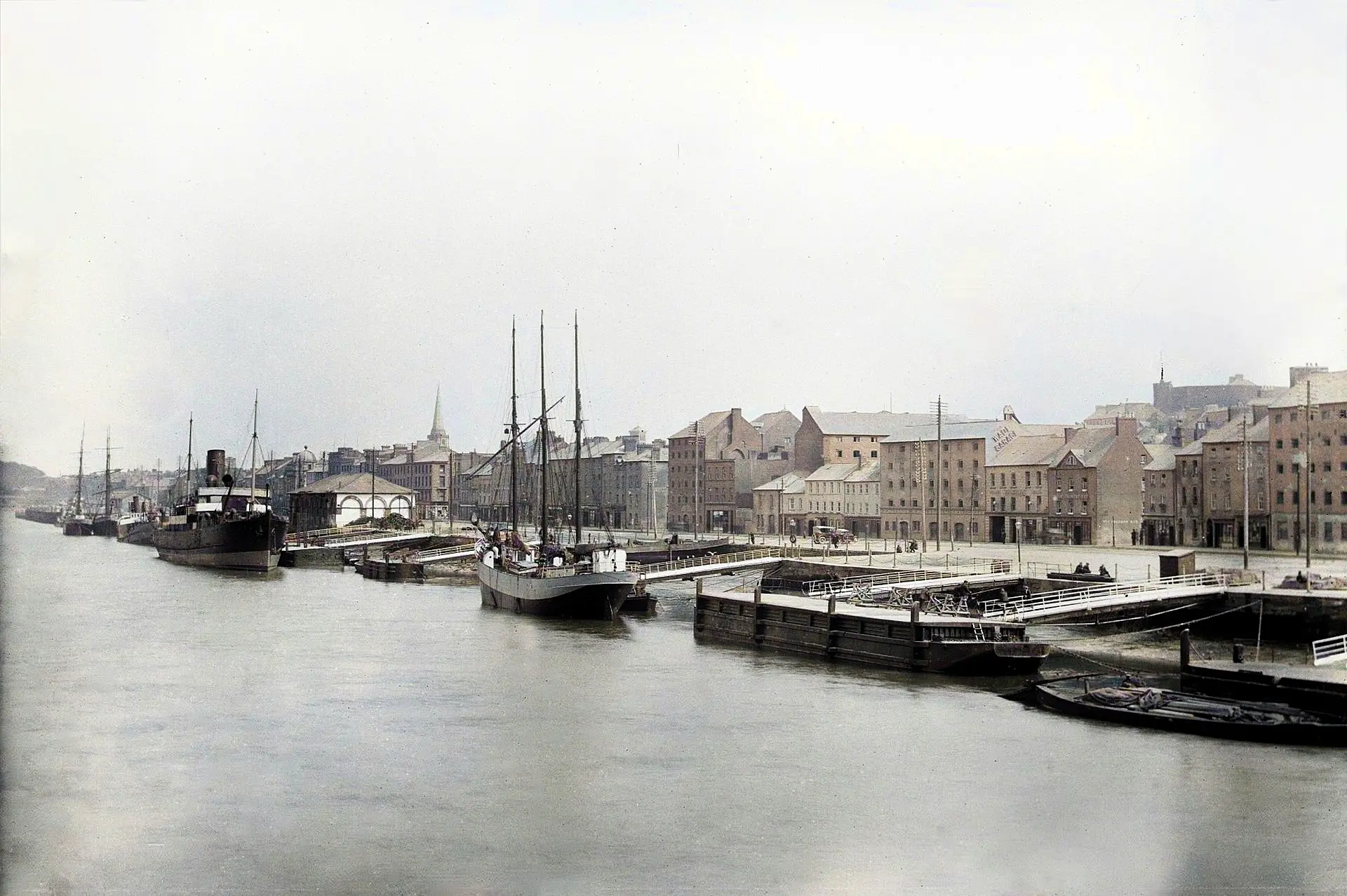 12. c1890, The Mall, Waterford
A truly iconic view of Waterford showing people going about their everyday lives on The Mall in Waterford City, over 130 years ago, as captured by Robert French.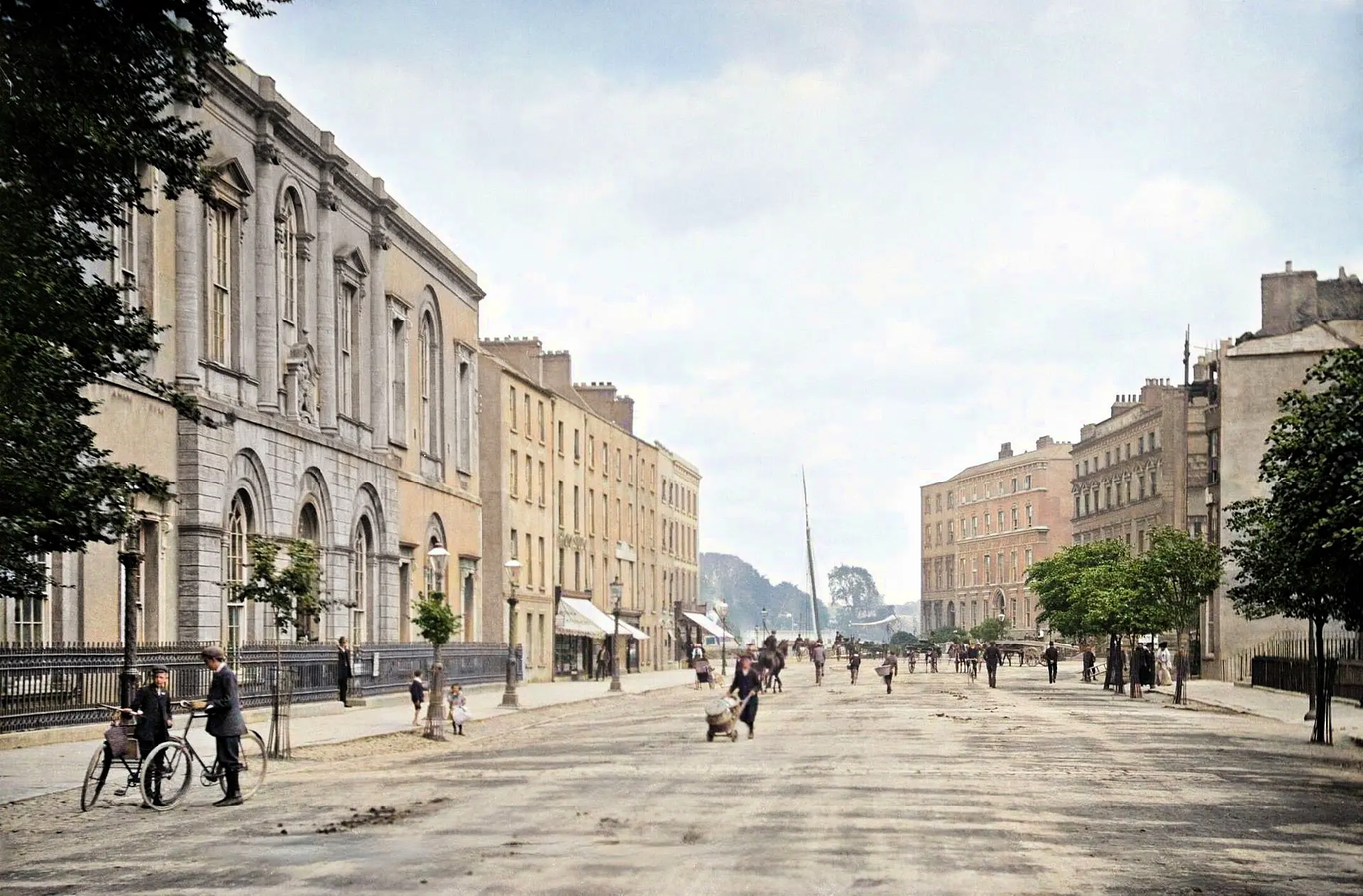 13. c1885, Dunmore East Harbour
A glorious shot of Dumore East harbour in a forest of masts, full of life and energy and the lighthouse by Alexander Nimmo really completes the scene. Dunmore East in Co. Waterford is a pretty, charming and busy fishing, tourism & boating centre and has seen a great deal of development since this snap was taken.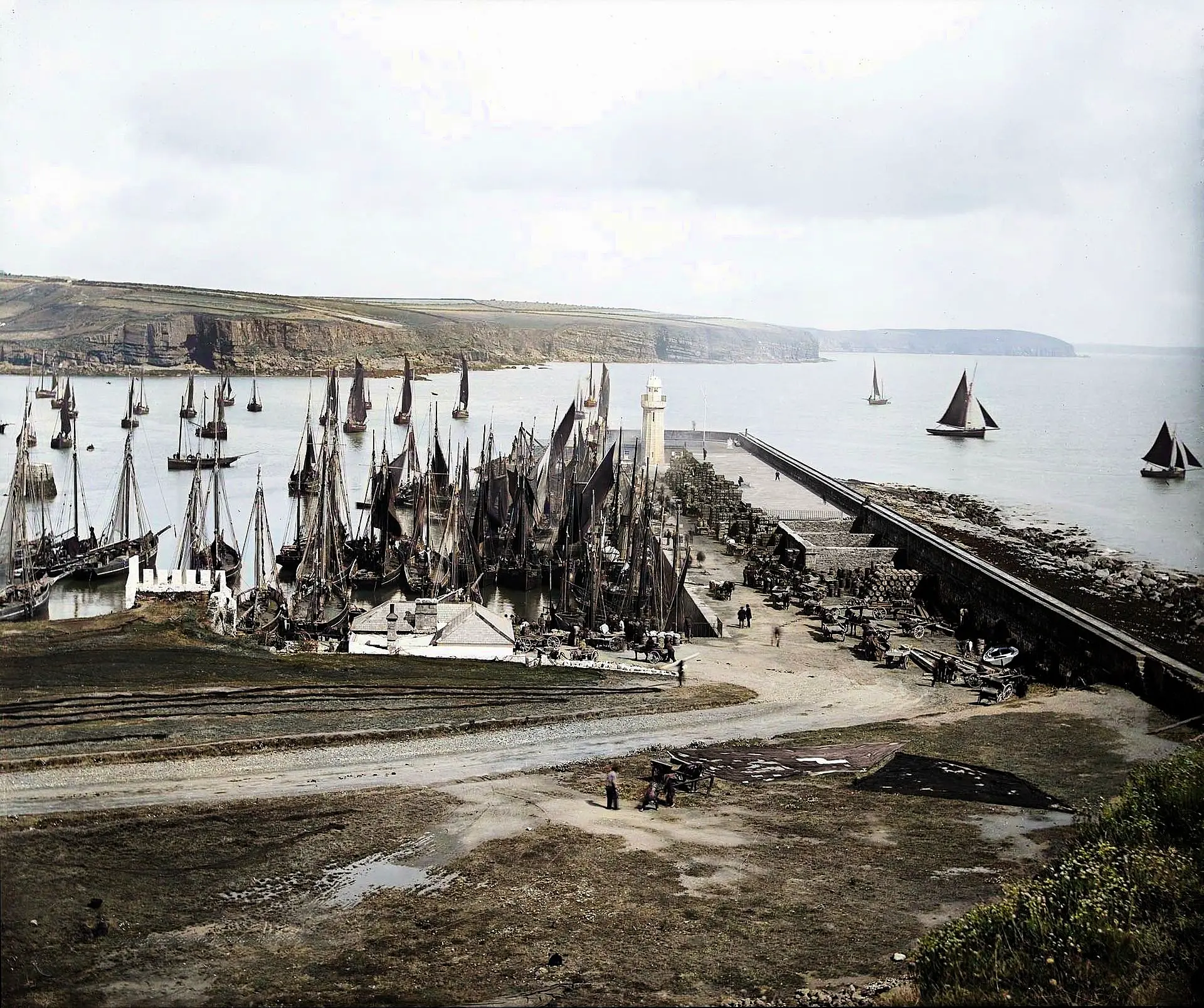 14. c1910, Tramore Life Boat
Surrounded by onlookers, supporters and a dog, Tramore Life Boat & crew emerge like a mirage from the Poole Collection, as masterfully captured by Arthur Henri Poole.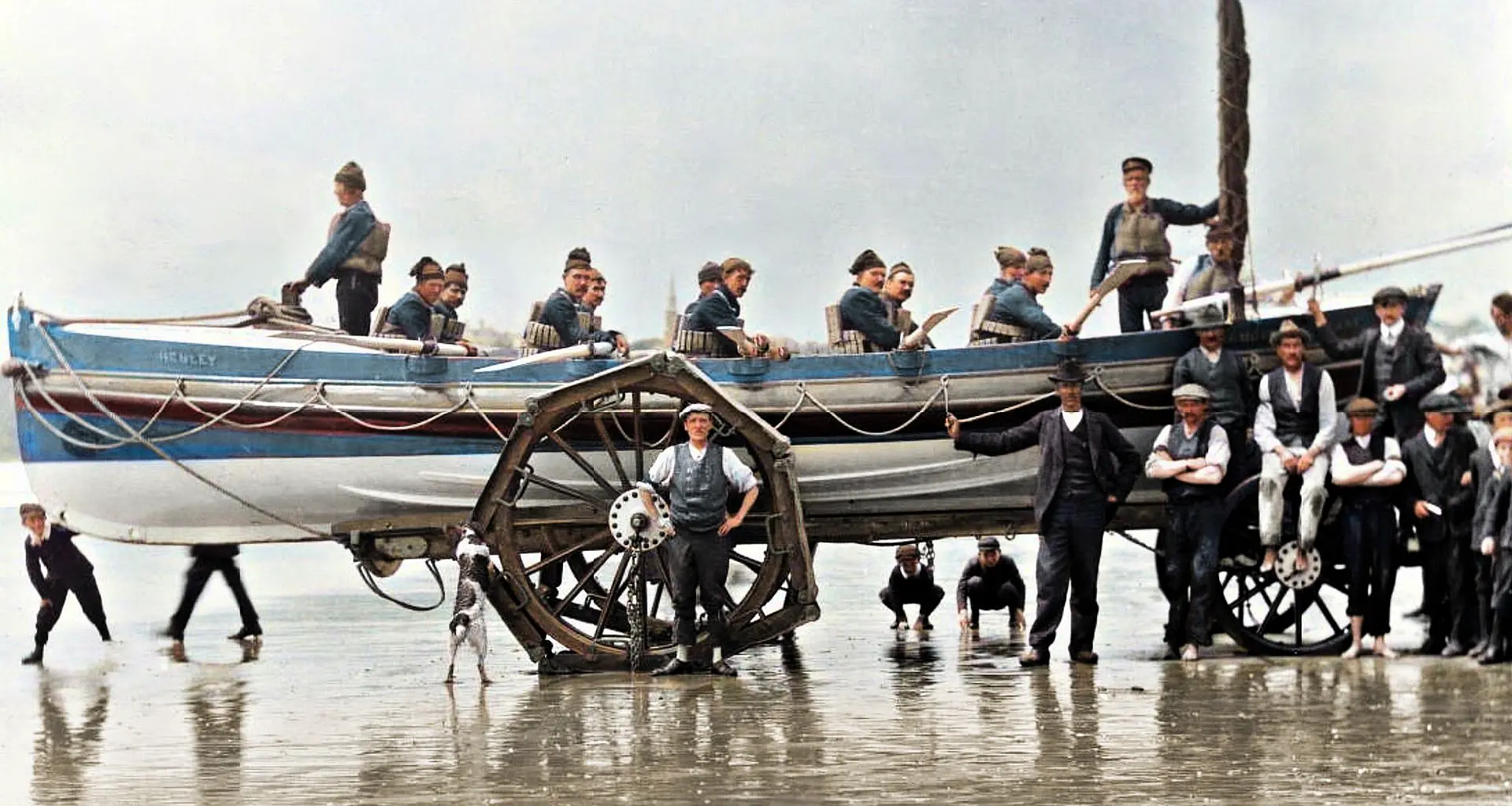 15. c1890, Barronstrand St.
A beautiful scene of Waterford's busy Barronstrand Street by Robert French. The Catholic Cathedral, designed by Honest John Roberts, looms large as The Clock Tower quietly marks mimutes long-since passed.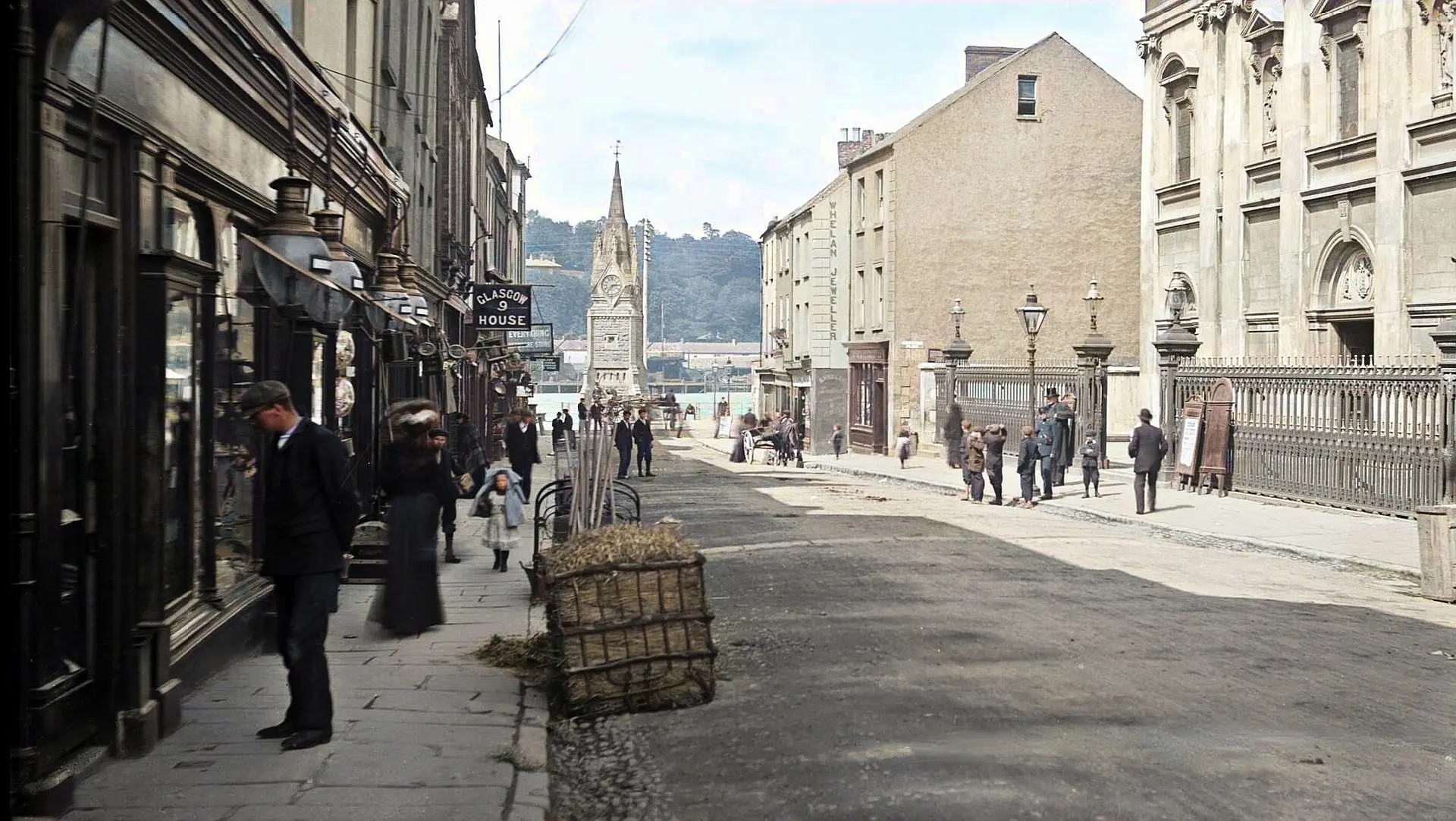 16. c1890s, The Vee, Tramore
Where it all comes together at the Vee. The junction of Lower Main Street, Broad Street, Strand Street & Queen's Street in Tramore Co. Waterford, as captured by Robert French.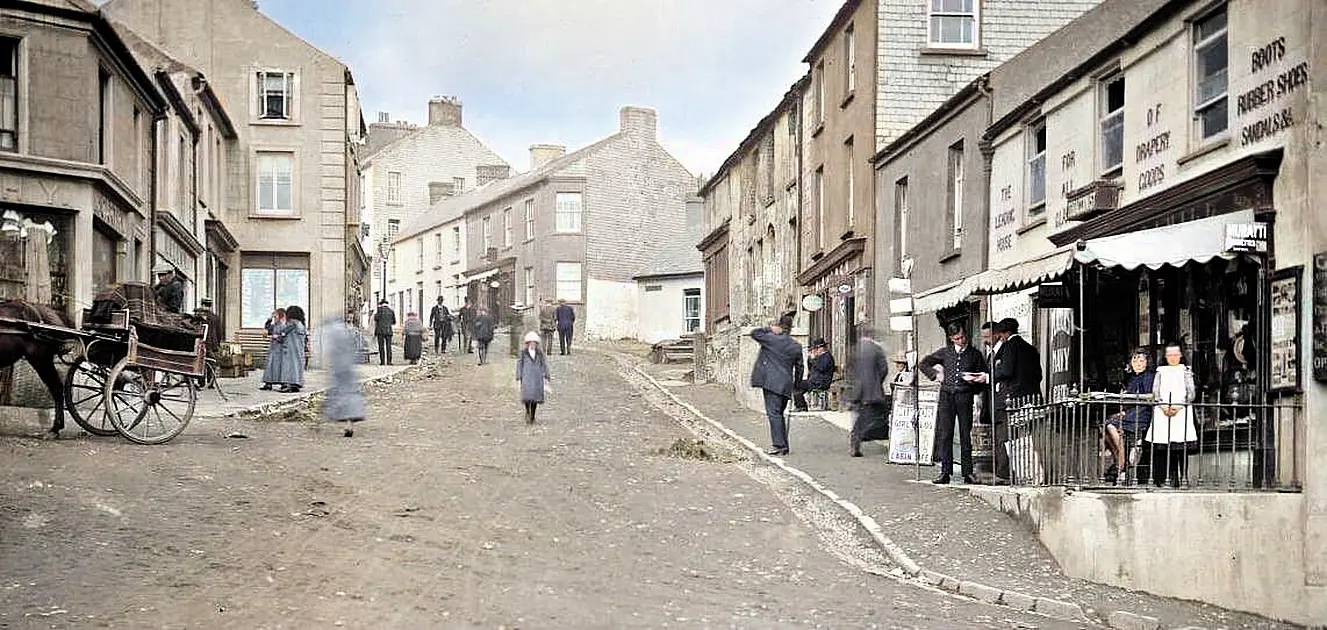 17. c1899, Waterford City Hall
Waterford City Hall & Theatre Royal on The Mall, looking shiny and new, with caged trees freshly planted in the foreground. The Theatre Royal wing is showing the play 'A Bunch of Roses'. Formerly known as The Assembly Rooms and the Playhouse. Built in 1783. Architect: John Roberts.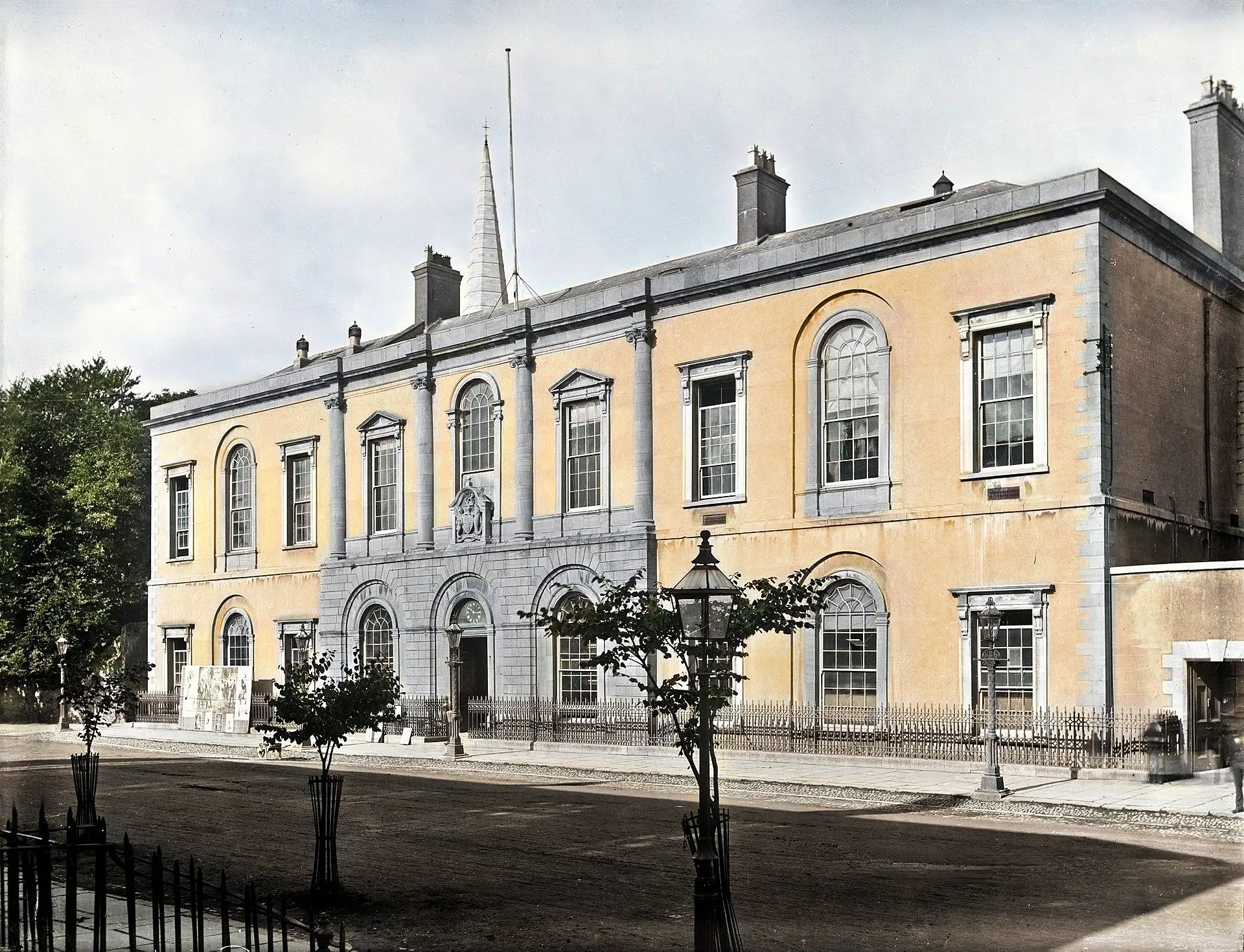 18. c1929, Tramore train station
8 April 1929, Tramore train station. This Poole photograph was commissioned by Messrs Eason & Son, Dublin. What great details in the advertising billboards, including one for Prices Nightlights, Pears' Golden Glory soap and another for that wonderfully appointed Chemist shop owned by Jones at 82 the Quay, Waterford.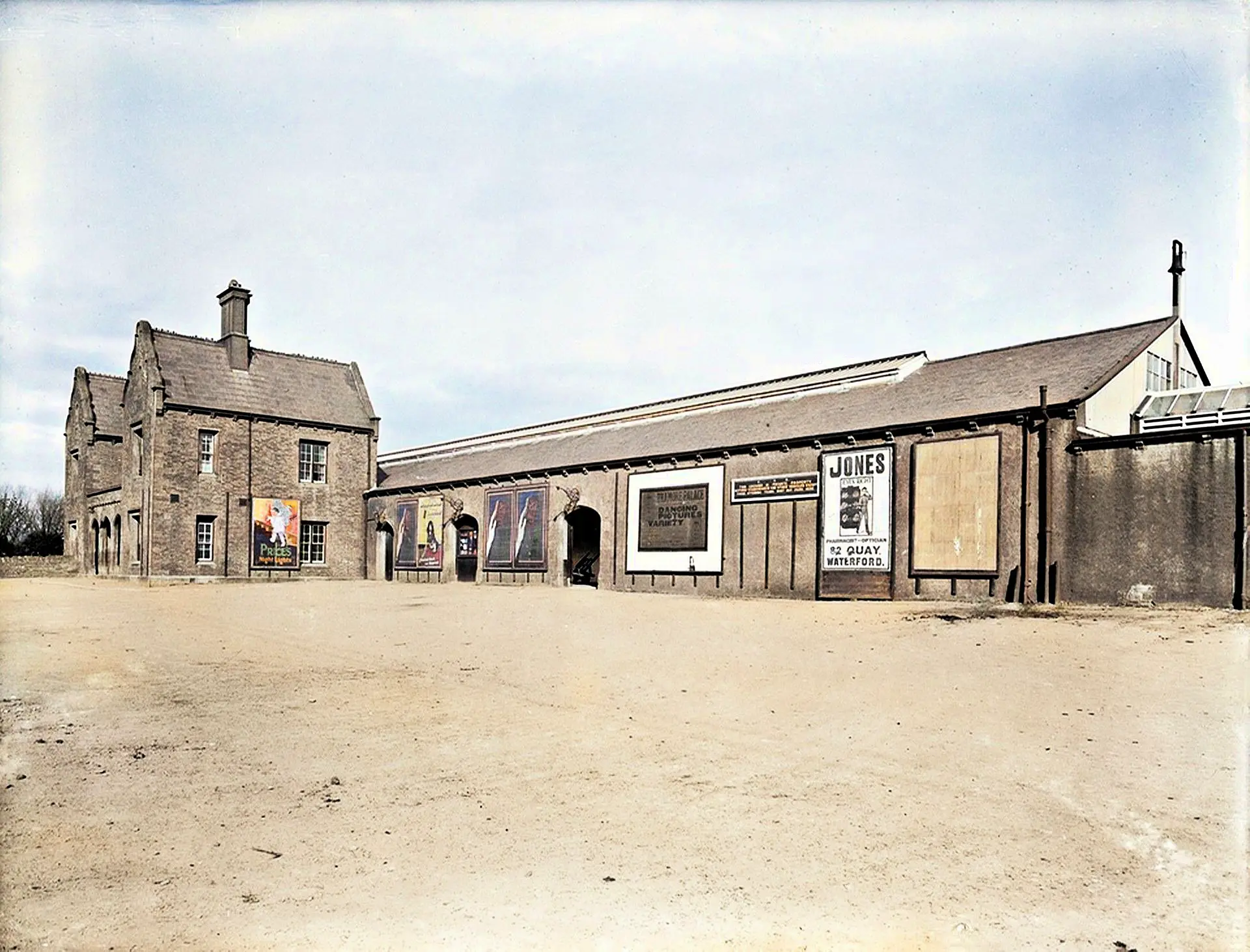 19. Dungarvan Bridge & Harbor, County Waterford, c1890
One in a series of photochrom prints of Waterford held by the U.S. Library of Congress. Re-colourised for realism. Source: US The Library of Congress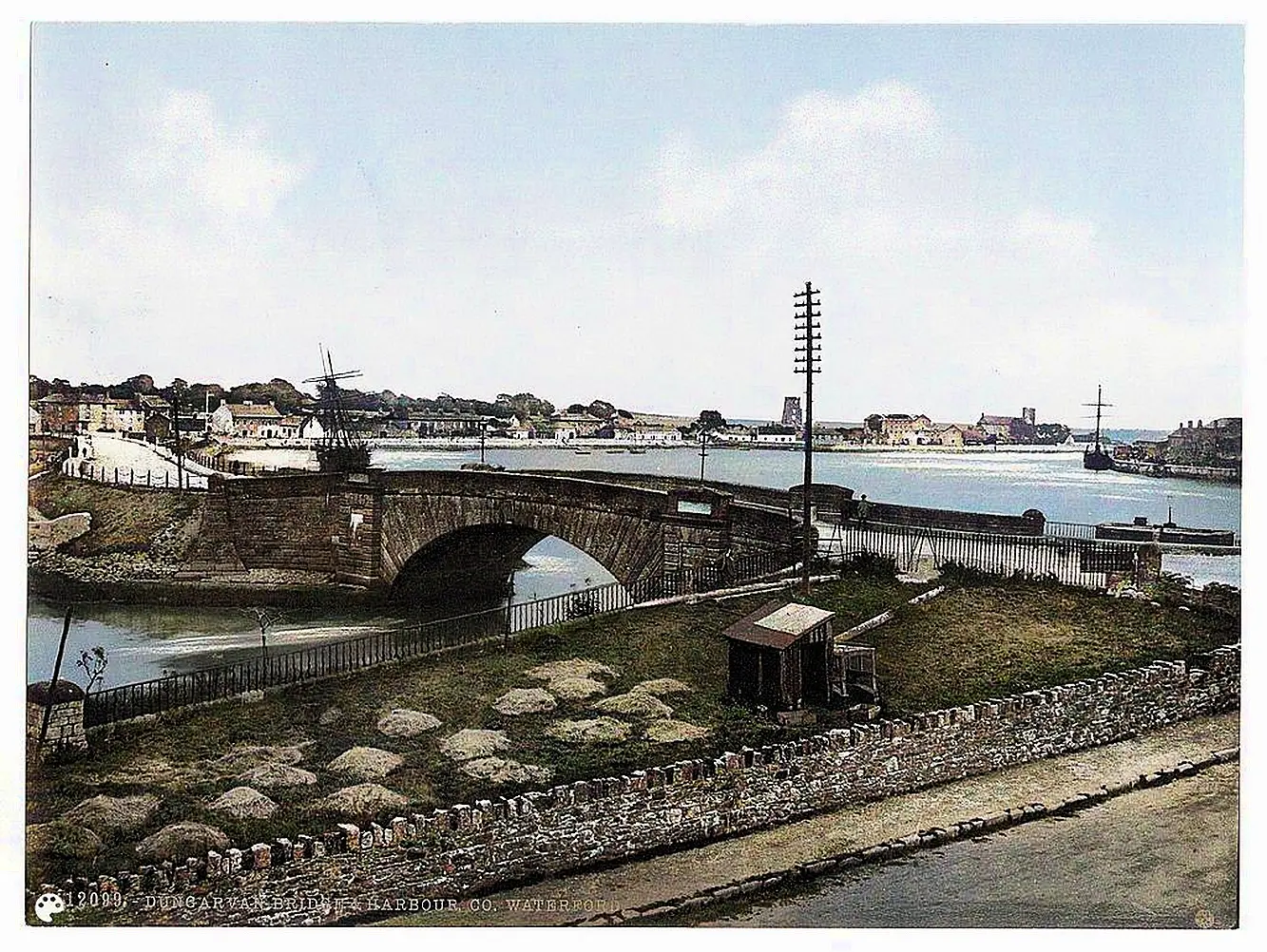 20. Fair Day, Dungarvan, Co. Waterford circa 1902-1914.
Now in colour for the first time. Many cattle for sale and plenty of men there, hand slapping in full swing, deals being done, cows bought and sold. Some really beautiful small details in this image so be sure to zoom in.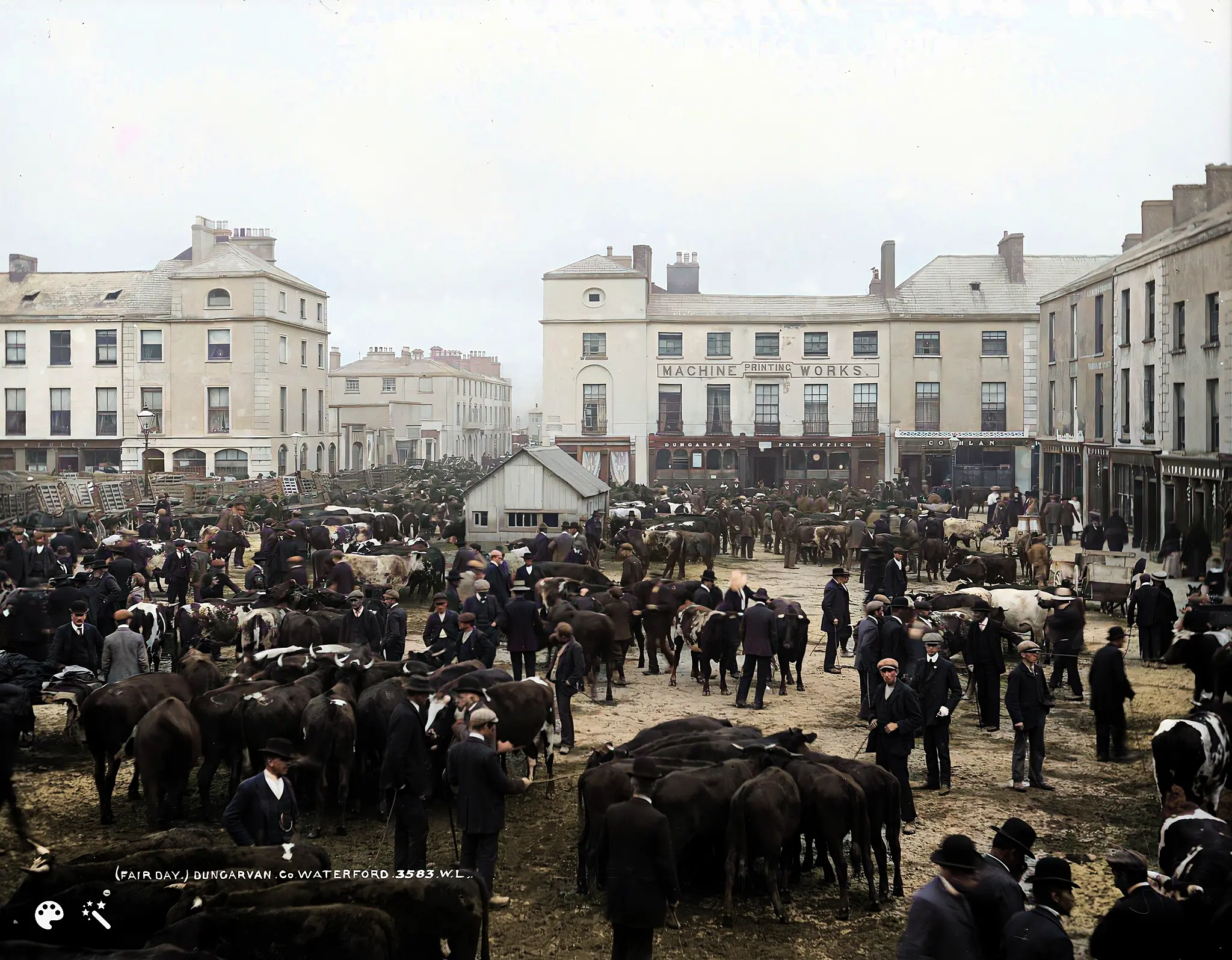 For more great colour photos from times past, click here